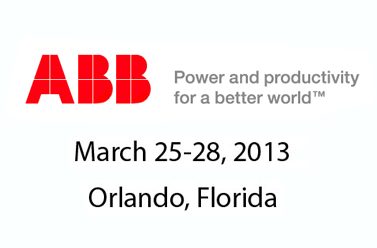 Important Information

Complimentary Internet (WiFi in guest rooms)

Shuttle service will be available from Rosen Shingle Creek to the Orange County Convention Center during the conference hours.

In order to receive information about the conference and the hotels available during the conference, please view the ABB Automation & Power World website at: www.abb.com/a&pworld

Taxes
All rooms are subject to a lodging tax at 12.50%

Check-In Time After 3:00PM Check-Out Time 11:00AM
Check-In: Sunday March 24, 2013

Check-Out: Friday March 29, 2013

Cut-Off: Thursday March 7, 2013

Payment Method: Attendee

Coordinator: Maria Bohorquez

Phone: 1-800-204-7234

Fax Number: 1-407-996-3157

Email: Reservations@rosenhotels.com
Group Policies:

5-Day Cancellation Policy
You must cancel 5 days prior to arrival. If you cancel less than 5 days, your credit/debit card will be charged a one night's room and tax penalty.

Authorization Process
Five days prior to your arrival, a one night's room and tax authorization will be processed on your credit/debit card. Please be aware that an authorization on a debit card will remove funds from your bank account at that time.
PROUDLY, ROSEN SHINGLE CREEK HOTEL IS A SMOKE-FREE ENVIRONMENT IN ALL INDOOR PUBLIC AREAS AND GUEST ROOMS!