Tackle the Epcot International Festival of the Arts with expert tips on how to organize your visit.
First, What to Expect at the Epcot International Festival of the Arts
The festival runs from January 14 through February 21, 2022.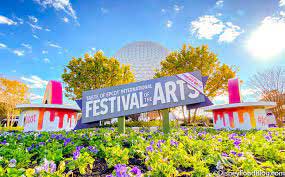 It's Epcot's biggest celebration of the arts. Festivities include ethnic cuisine, immersive art, and the Disney on Broadway concert series. Unlike other festivals, Disney and Epcot set this experience apart. It's the only one of its kind that highlights the love and appreciation for art in its many styles and forms. The festival also features live performances from musicians and artists. Live chalk artists recreate classic paintings on the park sidewalks as well. However, maybe we can all agree that the biggest event coming back this year is obviously the Disney on Broadway Concert Series. Right?
Let's get to planning.
1. Start by Eating Art
Much like Epcot's Food and Wine Festival, this event boasts over 15 "food studios" throughout the World Showcase.
Since this is an art show at Disney, even the food presentation becomes an artistic display. Moreover, these edible art pieces feature the piece de resistance of global cuisine. Expect to see magical presentations and incredible details expertly plated for your viewing and eating pleasure. The "Wonderful Walk of Colorful Cuisine" features five delectable treats that are a work of art.
No matter what you eat, it'll be a feast for the eyes and mouth.
2. Immerse Yourself in Art
As you dine around the park, enjoy the (non-edible) art and artists on display.
At the Pavilion Galleries, you'll find a multicultural art exhibit of over 100 Disney and visiting artists. Here you can watch artists create masterpieces in front of live audiences. If you feel inspired afterward, then try your hand at creating art at the Interactive Wall Mural. Whatever you create becomes part of a bigger piece of artwork.
Take your time to enjoy the galleries or start your own collection.
Several must-see galleries exist throughout the park. We suggest making time to visit as many as possible. Looking for a unique keepsake? Then visit some of the shops for distinctive gifts and original Disney-inspired artwork.
Don't forget to snap a selfie at one of the many photo ops that turns you into a famous piece of art.
3. Reserve the Afternoon for the Disney on Broadway Concert Series
If you're a theater kid, then make plans to see top Broadway performers sing Disney classics live at the America Gardens Theater every afternoon.
Past years' artists include Ashley Brown from Mary Poppins, Josh Strickland from Tarzan, Syndee Winters from The Lion King, and Michael James Scott from Aladdin. Be sure to arrive early. Seats fill up quickly. Maybe guarantee a seat to the show by buying one of the dining packages?
BONUS: Where to Stay in Orlando for the Epcot International Festival of the Arts
After a long day at Epcot eating delicious food and viewing art, stay in a room close to Disney in Orlando for easy access to and from the parks.
As you plan your trip to Taste of Epcot International Festival of the Arts, book a room with Rosen Hotels & Resorts. We offer the best rates at a variety of Rosen hotels. And we're close to the Disney parks. Our hotels dedicate tremendous focus to the highest standards of cleanliness and safety for the well-being of our guests and associates. New hotel features include clear protective borders at the front desks and additional hand sanitizer dispensers. We use hospital-grade, EPA-approved disinfectants to frequently clean common areas and guestrooms.
Book your clean and comfortable room in Orlando at the best rate by calling Orlando Hotels 4 Less at 1-866-337-6736.