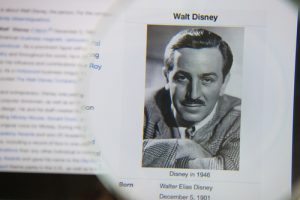 The mastermind behind Mickey Mouse, Snow White, Disneyland, and so much else throughout the 20th century; Walt Disney is one of the most well-known figures in the world. Aside from his high-profile achievements however, there are things not many people know about. From a business setback that spurred the creation of one of the world's most famous cartoon characters, to a mysterious death, these are some of the most fascinating facts about a true legend.
He Voiced Mickey Mouse
After a run at becoming a newspaper cartoonist, creating advertisements for magazines, becoming an animator, and opening his own film studio that later closed due to financial issues, Walt Disney opened Disney Brothers Studio with his older sibling Roy. Walt developed a character called Oswald the Lucky Rabbit, but due to losing his rights to the character, he was forced to come up with something else. Mortimer Mouse was then created, but it was decided that Mickey Mouse would be a more fitting name. The character quickly became a star, and when Mickey said his first words in 1929, Walt decided he was unhappy with the sound, and voiced the character himself until 1947, when he decided he was too busy to continue doing so.
Disney Produced Propaganda Films during World War II
During the war, various federal agencies commissioned educational films as a way to support the war effort. Disney produced a film called "The New Spirit" which featured Donald Duck and encouraged people to pay their income taxes as a way of supporting war efforts. The film was shown in thousands of movie theaters and even earned a nomination for an Academy Award. Disney studios also produced training films for the American military. Other films made fun of Nazis and even supported Walt's patriotism and views about strategic long-range bombing efforts during the war.
Walt Loved Trains
Trains were a lifetime fascination for Walt. Both his father and uncle worked on railroads, and Walt briefly sold snacks and newspapers on trains as a teenager. In fact, it was on a train ride where Walt began developing the character that would eventually become Mickey Mouse. Later on, Walt built elaborate train sets as a way to de-stress from work. After moving to a new home in Los Angeles, Walt built a 1/8 scale steam locomotive and laid half a mile of tracks around his property. He would dress up as a train engineer and give visitors rides around his property.
When you're planning a vacation to Orlando, you can count on Orlando Hotels 4 Less to get you the absolute best rates on the best hotels throughout the city. For questions, or to book a room, call us today at 1-866-33ROSEN.