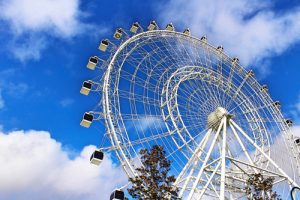 If there's one thing that Orlando is not lacking, its entertainment options. Big amusements, thrills, shopping, and dining are just some of the reasons why Orlando is one of the most popular tourist destinations in the world.
The Orlando Eye has been open for just a few years, and recently entered into a sponsorship deal with the popular Faygo soda. Here are some things you should know about the big wheel that dominates Orlando's cityscape.
It Is Part Of An Entertainment Complex
Orlando has been undergoing a large amount of expansion in recent years, especially in the attraction-heavy International Drive area. The Orlando Eye is perhaps the most noticeable addition to the area, and this 400-foot tall observation wheel is the focal point of the I-Drive 360 complex, which houses a variety of shops, restaurants, and other attractions.
Carrabba's, Yard House, Outback Steakhouse, and Tin Roof are just a few of the dining options available, with plenty of sweets supplied by Sugar Factory and Ben & Jerry's. Other attractions include the Sea Life Orlando Aquarium and Madame Tussauds Wax Museum.
The Eye Is A Product Of Some Familiar Companies
The companies behind The Orlando Eye are Unicorp National Development, Inc. and Merlin Entertainments. Unicorp is based locally in the Dr. Phillips area and is responsible for the Dellagio complex and StarFlyer attraction. Merlin Entertainments is no newcomer to giant observation wheels, as they masterminded the famous London Eye.
The Orlando Eye stands proudly at 400 feet tall, while the London Eye is only slightly larger at 443 feet.
The Passenger Capsules Are A Luxurious Place To Be
Each of the 30 passenger capsules on the Eye are much more than your basic Ferris wheel seating. The capsules feature comfortable seating for up to 15 guests, a climate-controlled atmosphere, lighting and audio, as well as touchscreen tablets that provide information about the surrounding sights.
Having an unforgettable time in Orlando doesn't have to break the bank, and The Orlando Eye is a great place to eat, drink, and have a great time. When planning your vacation, be sure to book your stay with Orlando Hotels 4 Less to get the lowest possible rates. Call us today at 1-866-33-ROSEN (1-866-337-6736)  to book!