Did you know that Florida boasts more coastline than any other state in the Lower 48? 
No place in the Sunshine State is more than 60 miles from the beach, which means Orlando's close to the coast. Locals and visitors have lots of chances to visit amazing beaches. But it also means that the choices we make here can impact the health of the beach and ocean.  
Clean Beaches Week takes place every year from July 1-7. The week is a time to celebrate the beauty, fun, and relaxation that beaches offer while also thinking of ways to protect them. Whether or not your next Orlando vacation involves a trip to the coast, here are six ways you can support Clean Beaches Week during your travels.  
Reduce Plastic Use
Single-use plastic products like bags often make their way to the ocean or shoreline. Nobody wants to swim or sunbathe with litter around them. More importantly, these items can harm animals that eat or get caught in them.   
Before you head to the theme parks, pack a refillable water bottle and reusable utensils. (Or buy souvenir ones once you get there.) Be sure to leave room in your day bag for any other souvenirs, too, so that you can skip the plastic bag.  
Headed to the Orange County Convention Center? Be sure to grab any totes offered by event organizers or exhibitors. They'll come in handy if you take a trip to the outlet stores or Publix.  
Use Reef-Friendly Sunscreen
An estimated 14,000 tons of sunscreen run into the ocean each year.  
While sunscreen is a must in Florida, some products contain things like oxybenzone or octinoxate. These chemicals can cause coral bleaching, a condition that keeps coral from getting the nutrients it needs.  
When you're shopping for sunscreen before your trip, look for reef-friendly options like zinc-based formulas.  
This is especially important if you plan to take a dip in the ocean. Luckily, drugstores are beginning to carry more reef-friendly products, so you should have a few options when you're stocking up.  
Limit Your Car Use
A lot of the heat that comes from greenhouse gas emissions goes right into the ocean, posing a threat to marine life.  
During your Orlando vacation, cut back on your emissions by curbing your car use. If you're staying on International Drive, look into the I-RIDE Trolley.
Lynx runs municipal buses throughout Orlando. Also, be sure to take advantage of any theme park shuttle services your hotel offers (read on for suggestions). 
Learn about Ocean Conservation at Top Orlando Attractions
While keeping our beaches clean is serious business, there's no reason you can't have fun while supporting the cause.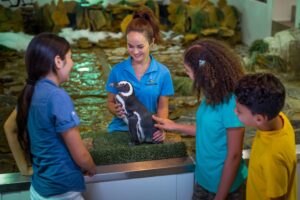 Education is an important part of marine conservation. And there are plenty of entertaining ways to learn about the ocean at your favorite Orlando attractions. Check out The Seas with Nemo & Friends at EPCOT, or the animal exhibits at SeaWorld Orlando or SEA LIFE Orlando Aquarium. While at the parks, take some time to read any educational signage or chat with one of the attractions' aquarists.  
Properly Dispose of Trash
While Orlando is an inland city, garbage that's not properly disposed of here can still end up on Florida's beaches if it's carried by a river or the wind.  
While you're exploring Orlando, be sure to throw your trash out in the right receptacle. If you spot litter while walking around, do the earth a favor and pick it up.  
Want to go all-in on keeping our beaches clean?  
Keep Florida Beautiful often hosts clean-up events in Orlando and along the Gulf and Space Coasts. Using the filtering options on the organization's statewide event calendar, you can choose to only see Central Florida events. 
Or volunteer to clean up a lake at a Central Florida Recon event.  
These clean-ups involve paddling around one of Orlando's gorgeous waterways and picking up litter. With advance notice, the group will provide you with a kayak and trash-grabber. 
Support Clean Beaches Week: Choose Your Hotel with Sustainability in Mind
Protecting our beaches is crucial, but it shouldn't distract from your goal of having a fun vacation or productive business trip. So, this Clean Beaches Week, let your hotel do some of the work for you.  
All four Rosen Inn properties have earned a Two Palm Hotel designation from the state's Green Lodging program.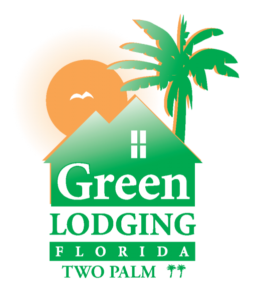 Each Rosen Inn offers shuttles to top Orlando theme parks, allowing you to cut back on driving. Our hotels have low-flow restroom fixtures, energy-efficient lighting, and optional towel and linen reuse programs. These features lessen your trip's environmental impact behind the scenes, allowing you to focus on making your trip a great one.