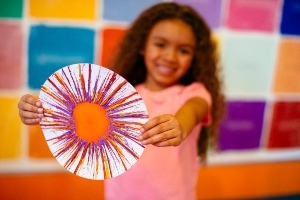 Orlando is famous for its world class, family-friendly attractions. Many of these attractions are also ideal for those with autism spectrum disorder or other sensory processing needs. Some even offer sensory-friendly days, during which the attraction is adapted for sensory needs. We've rounded up 7 sensory-friendly attractions in Orlando that you and your family will love.
1. Crayola Experience Orlando
Kids of all ages can explore their creativity at the Crayola Experience, located at the Florida Mall. This indoor attraction includes 27 hands-on activities such as naming and wrapping your own crayon, creating your own coloring page, and melting crayons to create souvenirs. Young ones will also enjoy climbing on the colorful two story playground.
Sensory-Friendly Features
Crayola Experience now offers Sensory Sundays once a month, so you and your family can enjoy the attraction adapted just for sensory needs. The attraction opens early at 9 a.m. so that guests can enjoy fewer crowds.
Accommodations at Sensory Sundays include:
Dimmed lights
No music
Paper towels available in restrooms
Quiet room for taking breaks
Exclusive character appearances in the Crayon Factory Theater
You can find the full Sensory Sunday schedule on their calendar. The Crayola Experience is located inside the Florida Mall at 8001 South Orange Blossom Trail.
2. Orlando Repertory Theater
For more fun with the arts, head over to the Orlando Repertory Theater (REP) in downtown Orlando. The REP has been delighting the Orlando community with family-friendly plays for years, including productions such as Madagascar, Curious George, and Nancy Drew.
Sensory-Friendly Features
The REP produces sensory-friendly versions of its most popular performances, so that all kids and families can experience the magic of the theater. This spring, the REP is offering sensory-friendly performances of Pete the Cat on March 29 at 5:30 p.m. and Freaky Friday on April 19 at 5:30 p.m.
Accommodations at sensory-friendly performances include:
Adjusted lighting and sound effects
Quiet room for taking breaks
Resource guide to help prepare for your day at the theater
You can learn more about accessibility at the theater as well as purchase your tickets on the REP website. The REP is located in downtown Orlando at 1001 East Princeton Street.
3. Orlando Science Center
Right next door to the Orlando REP is the Orlando Science Center. Exhibit halls include NatureWorks, where you can meet live animals, the energetic Kinetic Zone, and DinoDigs, which features real fossils found in Florida. In addition to providing hands-on fun in the exhibit halls, the Orlando Science Center is home to the Dr. Phillips CineDome, an eight story domed theater which screens science-themed movies, and an observatory with a refractor telescope.
Sensory-Friendly Features
The Orlando Science Center offers Sensory Sundays once a quarter. During Sensory Sundays, the science center opens early so that guests can enjoy the exhibits and the Dr. Phillips CineDome. Before you arrive, download the Sensory Social Story that offers a step-by-step preview of what to expect on your visit.
Accommodations at Sensory Sundays include:
Science center opens early so you can avoid the crowds
Select exhibit halls offer quieter volume settings
CineDome movie screening with softer volume and ambient light
The first Sensory Sunday in 2020 is on February 16. Check their website for more updates and information on accessibility. The Orlando Science Center is located at 777 East Princeton Street.
4. Dinosaur World
If the dinosaur exhibit at the Orlando Science Center peaked your interest, you'll want to plan a visit to Dinosaur World to see these pre-historic creatures up close. This vintage Orlando attraction is a must-see for anyone who enjoys dinosaurs or local history (or both). Dinosaur World features hundreds of life-sized dinosaurs, dinosaur-themed playgrounds, fossil digs, and other hands-on exhibits.
Sensory-Friendly Features
Dinosaur World is part of the Autism Friendly initiative created by the Center for Autism and Related Disabilities (CARD) at the University of South Florida. All of the exhibits at Dinosaur World are in an at-your-own pace environment and most do not require waiting in line.
Accommodations to enjoy at Dinosaur World:
Picnics are encouraged, so you can bring food aligned with your dietary needs
Service animals, emotional support dogs, and pet dogs are welcome
A visual guide is available to help you prepare for your visit
Visit the Dinosaur World website to learn more about their Autism Friendly initiative. The park is located at 5145 Harvey Tew Road, in Plant City, Florida.
5. iFly Orlando
For a more adventurous attraction, make your way to iFly on International Drive. This one-of-a-kind attraction allows you to experience indoor sky diving in a safe environment. Each flight is 60 seconds long, during which you'll float effortlessly on a cushion of air. Souvenir photos and video of your experience are available too, so you can share your flight with family and friends.
Sensory-Friendly Features
iFly welcomes people of all abilities over age 3 to fly anytime. They also invite those with physical or cognitive challenges to All Abilities nights. This program pairs flyers with knowledgeable instructors who are trained to offer additional accommodation and assistance as needed to make your flight a fun, positive experience.
Accommodations you'll enjoy during All Abilities include:
A highly-trained instructor who will guide you step-by-step through the experience
Additional assistance as you train for your flight
A safe and positive environment where you can be yourself
iFly Orlando is located at 8969 International Drive. You can learn more about All Abilities nights on their website.
6. AMC Disney Springs Dine-In 24
Those who aren't too keen on flying can still enjoy an adventure on the big screen at AMC Disney Springs 24 Dine-In, located at Walt Disney World's popular entertainment complex. This movie theater offers full dine in service, which means you can order right from your seat. The menu features everything from classic snacks like fried mozzarella and OREO® milkshakes to healthier options such as caprese flatbread and quinoa bowls.
Sensory-Friendly Features
This AMC location has partnered with the Autism Society to host sensory-friendly screenings of your favorite movies. Family-friendly movies are shown every second and fourth Saturday, while mature audiences can enjoy movies Tuesday evenings.
Accommodations during the Sensory-Friendly Film program include:
More lighting in the theater
Lower audio volume
Safe space where everyone is encouraged to be themselves
The full schedule for movie showings is available on the AMC website. The theater is located in Disney Springs at 1500 East Buena Vista Drive.
7. Orlando Theme Parks
Of course, no list of sensory-friendly attractions in Orlando would be complete without mention of the theme parks. All of the Orlando theme parks – Walt Disney World, Universal Orlando Resort, and SeaWorld Orlando – offer accommodations so guests of all abilities can enjoy their day. Whether you're visiting sea creatures, princesses, or wizards, you can relax knowing that you and your family will have the resources you need for the ultimate sensory-friendly theme park vacation.
Sensory-Friendly Features
Walt Disney World, Universal Orlando Resort, and SeaWorld Orlando all have resources and accommodations for guests with autism and other sensory processing needs. Additionally, SeaWorld Orlando and its waterpark, Aquatica, are Certified Autism Centers.
Accommodations available at the Orlando theme parks include:
Ride access programs for those who are unable to wait in attraction queues
Guides to help you prepare for your visit
Quiet spaces for taking breaks
Accommodations vary from park to park, so visit the accessibility sections of the Walt Disney Resort, Universal Orlando Resort, and SeaWorld Orlando websites to learn more.
Rest Up at Rosen Hotels & Resorts
Like the attractions in this blog, Rosen Hotels & Resorts is committed to providing all guests a fun experience in Orlando. You can browse the accessibility sections of our websites to learn more about the mobility, visual, and auditory accommodations we provide. All well-behaved dogs, including service animals, emotional support dogs, and pets are welcome at all of our properties. To learn more and to book your holiday in Orlando, give us a call at 1-866-337-6736.
Want to learn more about accessibility in Orlando? Check out our previous blogs about accessibility at SeaWorld and Aquatica, accessibility at theme park holiday festivals, and wheelchair accessible things to do in Orlando.