Warm up your vocal cords and step up to the mic. National Karaoke Week is coming up from April 23 – 29.
Karaoke has come a long way since its invention in the 1970s. What started as a niche pastime in East Asia has blossomed into a $10 billion industry, beloved by singers around the world.
Whether you're a karaoke regular or have been quietly dreaming of your moment in the spotlight, late April is the perfect time to belt out a tune or twenty. During your springtime trip to Orlando, you'll find plenty of places where you can let your voice be heard.
Here are seven pitch-perfect karaoke bars in the city.
1.      Rising Star
After a day of wand-waving and coaster-cruising at Universal Orlando Resort, another adventure awaits at CityWalk.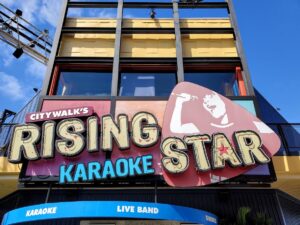 The shopping and dining district is home to Rising Star, one of Orlando's most unique karaoke spots. Thanks to Rising Star's talented backing band and backup vocalists, singers can truly live out their rock star fantasies. Choose from over 150 pop, rock, country, and hip-hop classics, then get ready to dazzle the crowd.
Rising Star also features an extensive food menu with oven-fresh pizzas, wings, tacos, and burgers.
Whatever you order, it'll go harmoniously with a "Rising Star" cocktail made from fruit-flavored vodka, raspberry liqueur, and orange and cranberry juices.
Rising Star is for singers 18 and older. Admission is free. However, you can upgrade to a VIP package with preferred seating, a dedicated server, and expedited entry into the bar.
2.      Stargazers Bar
Visitors at Walt Disney World can find their moment to shine at Stargazers Bar in Planet Hollywood.
Every Wednesday from 7 p.m. to 11 p.m., the open-air lounge hosts an epic karaoke night. Come early for happy hour (4 p.m. – 7 p.m.), then sign up for your slot. As you wait for your big moment, enjoy a cocktail, glass of wine, or local craft beer.
The bar serves pretzels and hot dogs for those that work up an appetite while working the room. Or head upstairs to Planet Hollywood's dining room for one of Guy Fieri's signature dishes.
3.      Big Daddy's
Audubon Park is the perfect neighborhood for music lovers exploring Orlando.
Find inspiration at Park Ave CDs (one of the area's best record stores) or by catching a show at an offbeat bar. Then, keep your musical adventure going at Big Daddy's. The 21+ lounge eats, sleeps, and breathes (and sings!) karaoke. The fun begins at 9 every night.
Arrive early — song slots can fill up quickly, especially on weekends.
As you peruse Big Daddy's big song catalog, you may be overwhelmed by your options. If you're there midweek and don't know what to sing, let the night's theme guide you. On Wednesdays, singers receive a free drink for performing a country or classic rock song. Thursday is '80s night, so to earn your comped cocktail, you'll need to sing a totally tubular song from that decade.
Any night of the week, you can enjoy refreshing beers and cocktails and oven-fresh pizza.
4.      KTV Orlando
While the allure of the limelight calls to many karaoke singers, others prefer to give a private show to their closest family and friends.
For a more intimate karaoke experience, meet your loved ones at KTV Orlando, a rockin' spot near the Florida Mall. KTV rents private karaoke rooms that can fit between two and 10 guests. The bar boasts a huge selection of songs in many languages, including English, Spanish, and Japanese.
Rentals start at $25 per hour.
When you need a break from singing, stop by the bar for a drink or challenge your singing squad to a game of pool.
5.      Aloha Beautiful
Sail into Aloha Beautiful for a night of karaoke, island style.
This terrific tiki bar serves a variety of fruity drinks, including tropical classics like mai tais and mojitos. Locals and visitors flock to the downtown Orlando bar from Wednesday to Sunday to sing their hearts out. While you're tapping your toes to the music, don't be surprised if the DJ calls everyone to the stage for a hula hooping or limbo contest.
Aloha Beautiful also features two private karaoke rooms, each with a coastal theme. Rentals start at $100 per hour and come with personal bar service.
6.      Kitty O'Sheas
Enjoy a taste of fame — and a taste of the Emerald Isle — when you step up to the mic at Kitty O'Sheas.
This Irish pub, minutes from Walt Disney World, offers karaoke on Mondays, Thursdays, and Saturdays. The same DJ has led the event since 1991 and is a pro at helping singers get into the groove. When you're not singing, get some fresh air on the patio, play darts, or take advantage of the bar's nightly drink specials.
When the time comes to grab a bite, order wings or Irish classics at the bar or step outside to see what the on-site food trucks are serving.
7.      Zebra's Sports Bar
As any singer will tell you, strutting your stuff under bright lights is as tiring as it is fun. You'll want to rest your eyes and vocal cords somewhere close by.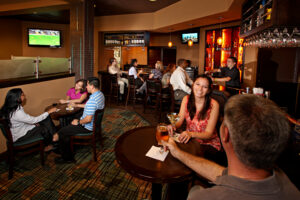 When you stay at Rosen Inn at Pointe Orlando, you can enjoy a good night out and a good night's sleep in one convenient location. Our on-site lounge, Zebra's Lounge & Grill, hosts riveting karaoke on select nights. Enjoy a night in the spotlight the Rosen way with a Rosen's Perfect Pizza and frosty glass of Alligator Drool, our exclusive craft beer.
When you book your room through Orlando Hotels 4 Less, you can sing out with joy, knowing you've received the best rate at your Rosen Inn of choice.