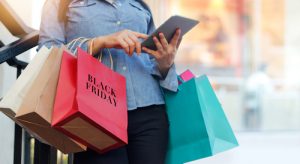 Black Friday has been the biggest shopping day of the year in the United States for a very long time, but in recent years, the Black Friday tradition has begun to spill over into the days before and after the day following Thanksgiving. Black Friday sales have begun to carry over into Cyber Monday which is three days later, and with sales beginning earlier each year, we are approaching an entire week of sales from merchants big and small.
Because this trend of starting sales early and continuing through the weekend seems to extend each year, we predict that stores will continue to offer "early" Black Friday deals, possibly as early as the Monday before Thanksgiving, in 2018.
As it has become the norm over the past few years, we think that Black Friday will continue through the weekend and into Cyber Monday, creating one big savings event. Some in-store doorbusters will only last minutes on Black Friday itself – as is tradition – plenty of online and in-store deals will be available all weekend long.
When making your Black Friday shopping plans, decide in advance how much you want to spend, and try to avoid impulse buying. Some people feel that they are too free with their credit cards, so cash may be a better option for staying on budget this year.
Orlando is one of the largest shopping destinations in the country, and the sales are going to be incredible on Black Friday. If you're coming to Orlando to get in on the action, look no further than the Rosen Inn for luxurious lodging during your stay. Call us today to book your room at 855-214-4563.