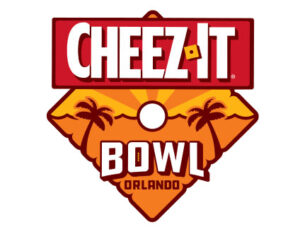 Central Florida is home to several NCAA college football bowl games. At the end of each season, ACC and Big 12 fans flock to Orlando. There, their favorite teams battle it out for the title in the annual Cheez-It Bowl.
Here is what fans can expect during the 2022 Cheez-It Bowl in Orlando.
Projected 2022 Cheez-It Bowl Teams
Hosted by Florida Citrus Sports, the 2022 Cheez-It Bowl will match up two highly ranked teams. The game takes place Thursday, December 29, 2022, at Camping World Stadium in Orlando. The 2021 Cheez-It Bowl pitted the ACC's Clemson against the Big 12's Iowa State. The Clemson Tigers beat the Iowa State Cyclones 20-13.
While it's still early in the season, several major sports networks have already made their 2022 projections:
Miami vs. Baylor (ESPN)
Virginia State Kansas State (USA Today)
NC State vs. Texas (CBS Sports)
Miami vs. Texas (Sporting News)
Notre Dame vs. Texas (Action Network)
UNC TCU (247 Sports)
Cheez-It Bowl Weekend Festivities
The fun starts at 4 p.m. the day before the game. On Wednesday, December 28, 2022, fans are invited to Pointe Orlando on International Drive for the Cheez-It Bowl Pep Rally. Fans will gather to listen to the band, cheer on the cheer squads, and get fired up by both teams' head coaches.
At 11 a.m. on game day, both teams' marching bands, spirit squads, and mascots will take to Park Avenue for the Cheez-It Bowl Parade of Bands. This free event in Winter Park, FL, puts fans right in the heart of the action and gets them hyped before the big game.
Tailgate at the Cheez-It Bowl Fanfest
After the parade, the 2022 Cheez-It Bowl will throw the ultimate pregame party at Tinker Field next to Camping World Stadium. The Fanfest starts at 1:30 p.m. and leads up to the game's 5:30 p.m. kickoff. Enjoy face painting, live entertainment, games, and food and drinks before the players take the field.
Score Big with Orlando Hotels 4 Less
Be the biggest winner this bowl season. Save on your Orlando vacation with a room reservation through Orlando Hotels 4 Less. With access to the best rates on rooms at four Rosen Inns, Orlando Hotels 4 Less offers you convenience and comfort without breaking your budget.