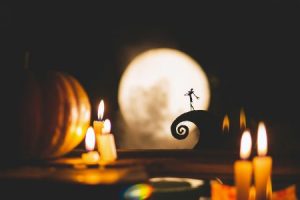 As the home of many spectacular performances and presentations, the Dr. Phillips Center is used to classics coming through its halls. This autumn, another classic is coming to Orlando as Disney in Concert: Tim Burton's The Nightmare Before Christmas arrives at the theater on Friday, October 18. Based on director Tim Burton's movie of the same name, this musical journey is an unforgettable experience that has been extremely popular at every stop it has made. It is a Halloween event you won't want to miss.
A Timeless Story
This event retells the story of The Nightmare Before Christmas, created by Tim Burton. The cult classic tale follows the character of Jack Skellington, the pumpkin king of Halloween Town as he hatches a mischievous plan against Santa Claus and Christmas Town. What follows is an adventure full of surprise and song, translating perfectly from the silver screen to the stage.
Musical Masterpiece
Disney in Concert: Tim Burton's The Nightmare Before Christmas is an expansive event combining animated pictures and a beautiful symphonic orchestra to create a full sensory experience. Movie clips play on a large screen overhead as composer Danny Elfman's memorable songs and score are performed live on stage, creating a sense of nostalgia for the original movie along with great performances to boot. Artistic light projections add to the magic and enhance the performances, making this show one to experience and savor.
Central Lodging in Orlando
As you come to see The Nightmare Before Christmas in concert, a hotel that provides great comfort at fair prices is a top priority. Located among the many Orlando tourist destinations, Rosen hotels are a great choice when you want a reliable place to stay that will fit your budget. Contact us today to book a room at 1-866-337-6736 or click the yellow button at the top of the page.