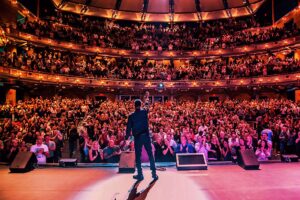 Performance Lineup for March
The Dr. Phillips Center for the Performing Arts welcomes a diverse mix of concerts, musicals, and other productions each month. Here are the respected names you can catch at this downtown Orlando venue in March 2023.
Pretty Woman: The Musical
One of Hollywood's most beloved romances comes to the Dr. Phillips Center stage in Pretty Woman: The Musical. If you don't catch the musical adaptation of the popular Julia Roberts-Richard Gere rom-com between Tuesday, February 28, and Sunday, March 5, it'll be a big mistake. Big. Huge.
Rimma Plays Bruch
If you love classical music performed live, then you won't want to miss violinist Rimma Bergeron-Langlois. She's coming to Orlando to perform some of Bruch's most fiery and romantic pieces. Listen as Rimma Plays Bruch on Saturday, March 4, at 7:30 p.m., or Sunday, March 5, at 3:30 p.m.
The Temptations & The Four Tops
Two legendary Motown groups are joining forces to bring one incredible night of music to Orlando.
On Thursday, March 9, 2023, at 8 p.m., witness The Temptations and The Four Tops share the stage. The acts will croon Temptations hits like "My Girl," "Just My Imagination," and "Ball of Confusion." You'll also hear Four Tops classics like "Baby I Need Your Loving," "Reach Out (I'll Be There)," and "I Can't Help Myself (Sugar Pie Honey Bunch)."
Distant Worlds: Music from FINAL FANTASY
If the music of Final Fantasy is the soundtrack of your life, then don't miss Distant Worlds: Music from Final Fantasy on Friday, March 10, and Saturday, March 11, 2023. The live concert celebrates the 35th anniversary of Final Fantasy Coral.
Both performances start at 8 p.m. and feature pianist and vocalist Susan Calloway.
Eli Castro: "Living Dangerously Tour"
Off-Broadway writer and performer Eli Castro is bringing his heartfelt humor to the Dr. Phillips Center in an innovative one-man show. See what the Chicago Sun-Times and the Orlando Sentinel are calling "a tremendous performance" on Saturday, March 11, at 8:30 p.m.
An Evening with Leslie Odom Jr.
Tony- and Grammy-winner Leslie Odom Jr. famously originated the role of Aaron Burr in the hit musical Hamilton. He has since starred in the acclaimed films One Night in Miami, Harriet, and Glass Onion: A Knives Out Mystery.
The stage and film star will bring his musical talents to the Dr. Phillips Center stage on Sunday, March 12, 2023, at 7:30 p.m.
Shen Yun 2023
An unforgettable show that has impressed thousands since 2006, Shen Yun 2023 covers 5,000 years of ancient Chinese culture through the artistry of dance. Get a glimpse into the way of the universe from March 16 to March 19. Matinee and evening shows are available.
Michael Bolton
Grammy Award-winning singer-songwriter Michael Bolton is a vocal icon. He is responsible for soulful hits like "When a Man Loves a Woman," "Said I Loved You…But I Lied," "How Am I Supposed to Live Without You," and "Go the Distance" from Disney's Hercules.
See the legend live in Orlando on March 21 at 7:30 p.m.
Harper Lee's To Kill a Mockingbird
Based on the Pulitzer Prize-winning masterpiece, To Kill a Mockingbird brings the iconic novel by Harper Lee to the stage. Watch the story of Scout, Jem, and Atticus Finch from March 21 to March 26. Showtimes vary, with matinee and evening performances available.
Pink Martini with Special Guest China Forbes
Pink Martini is a multilingual act that has played around the world, often with big-name orchestras. The band came together in 1997. They have since sold over 3 million albums worldwide. See what keeps people coming back to Pink Martini's music on Wednesday, March 22, 2023, at 7:30 p.m.
17th Annual National Miss Comedy Queen
This comedy drag extravaganza features contestants from around the country competing to become the next National Miss Comedy Queen. Watch as titleholder Mr Ms Adrien crowns the next winner on Thursday, March 23, 2022, at 7 p.m.
Spies, Lies, and Treble Clefs
From the James Bond theme to the music from Charlie's Angels, "Spies, Lies, and Treble Clefs" brings some of the most iconic spy scores to the stage. This one-day-only performance will blow audiences away on Saturday, March 25, 2023, at 3:30 p.m. and 7:30 p.m.
Hits! The Musical
Some of America's most iconic songs hit the stage in Hits! The Musical. The show features legendary tunes like "Signed, Sealed, Delivered" and "I Will Always Love You." Expect a night of thrilling dance numbers, extravagant costumes, and dazzling lights.
Hear your favorite songs come to life on Wednesday, March 29, 2023, at 7:30 p.m.
Handel's Messiah
This Orlando Sings Symphonic Chorus brings Handel's "Messiah" to Orlando on Thursday, March 30, 2023, at 7:30 p.m. The composition features the famous "Hallelujah" chorus, one of the most iconic pieces of music of all time.
Los Ángeles Azules: "De Iztapalapa Para El Mundo Tour"
Los Ángeles Azules has been writing and performing hits for the last 40 years. The Mexican band fuses unexpected genres to produce creative musical stylings. They'll bring their "De Iztapalapa Para El Mundo Tour" to Orlando on Friday, March 31, 2023, at 8 p.m.
Book an Orlando Room for Less
After an enjoyable evening at the Dr. Phillips Center, stay at a Rosen Inn in Orlando.
At Orlando Hotels 4 Less, you can get the best rates on a clean and comfortable room near everything Orlando has to offer.