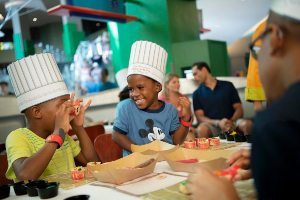 Every fall, Disney hosts a culinary carnival at their Epcot theme park. A tradition started over 20 years ago, the Food and Wine Festival is a favorite with locals and visitors alike and has an incredible following across the globe. Full of delicious bites, musical guests, celebrity chefs and family activities, this event is a great time to slow down and enjoy the finer things in life. Here are some of the exciting things happening at this year's event.
Unique Eateries
One of the hallmarks of Epcot's Food and Wine Festival is undoubtedly the food. A collection of 35 different booths offers a wealth of tasty options from all around the world. Hearty offerings are available at places like Germany, Ireland, Canada, and the Hops and Barley Station. If lighter, exotic flavors are your preference, stations like Hawaii, Thailand, Morocco, or Active Eats might appeal to you. There is always a fantastic array of wine, beer, and other alcoholic specialties at every stand, as well as designated areas showcasing drinks from all types of locations. Whatever you choose to consume, you can't go wrong.
Music and Entertainment
Once you have had your fill of food, there is still plenty to stay for. Included with Festival admission, the Eat to the Beat concert series brings well known bands to perform multiple times a night for your enjoyment. In addition, celebrity chefs will be present every Sunday for a special Sunday Brunch with the chef event, offering an exclusive chance to learn from the best in the business. New to this year's event is ESPN's Tailgate Tasting, a Sunday night look at some football snacks and drinks inspired by the teams playing in ESPN's Monday Night Football games on the following day. Reservations are required as well as an extra cost.
Fun for the Kids
Despite the fancy foods and adult drinks, the Epcot Food and Wine Festival is a great place to bring your whole family. Remy's Ratatouille Hide and Squeak Scavenger Hunt is a great event for the kids to expel some energy and explore the area in a positive way. The ever-popular candy sushi station is back, where kids can make sushi out of their favorite sweets. After a trip around the World Showcase, a vibrant party awaits at the Disney du Jour Dance Party, where live DJs and Radio Disney performers will entertain every day.
Stay by the Action
Whether you are a first-time visitor or an experienced veteran, Epcot's Food and Wine Festival always offers up a great time of eating and exploring. And for when your stomach is stuffed and sleep is coming, hurry back to your Rosen hotel for a relaxing stay. Our properties are centrally located for any of your Orlando destinations, and with comfortable lodgings at competitive prices, it's a perfect option for whatever you plan on doing during your visit. Contact us today to book a room at 1-866-337-6736, or click the button at the top of the page.