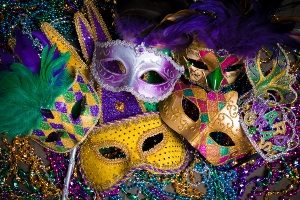 A trip to Mardi Gras at Universal Orlando Resort is truly a treat for the senses. The festival takes place this year from February 1 to April 2 and is known as Florida's biggest party. Entrance to Mardi Gras is included with park admission so there's no need to pay extra to participate. Best of all, Mardi Gras Universal is designed to be family-friendly, so everyone can enjoy the party. Here are some of the fun experience you'll enjoy when you attend Mardi Gras this year.
Flavorful Cajun Food
Universal whisks you away to the streets of New Orleans with a transformation that dazzles all the senses. The New York area in Universal Studios becomes New Orleans, with a French Quarter Courtyard. In the courtyard, you can find some of the best food in the bayou including gator bites, jambalaya, beignets, and more. While you eat, your ears will be treated to music by Louisiana jazz, blues, and zydeco bands.
In additional to flavorful food, Universal Mardi Gras also features a variety of drinks, including signature cocktails as colorful as the flying beads. There is also craft beer, a mimosa bar, and mocktail options for those avoiding alcohol.
A-list Concerts
In addition to the live Louisiana-style music at the French Quarter Courtyard, Universal Mardi Gras also hosts concerts. Held at the Music Plaza stage, these concerts feature some of the biggest names in pop, rock, country, R&B, and more, so fans of any genre are sure to enjoy the shows. In 2019, performers included Dan + Shay, Macklemore, Pitbull, Steve Miller Band, and Prince Royce. For the most current information regarding the 2020 lineup, please check the Universal Orlando Resort website.
Family-Friendly Mardi Gras Parade
The lively parade is the highlight of Mardi Gras at Universal Orlando Resort. The whirlwind of music, performers, and extravagant floats will have you grooving all night long. Even if you've attended Mardi Gras before, you'll still enjoy a new experience each year as each year Universal adds a few new floats. All of the parade floats are made by Kern Studios, the same studio that has been making floats for New Orleans since 1947.
In order to find the best viewing spot, you'll want to stake your claim early. If you'd like to be part of the party, Universal Orlando Resort also offers a unique opportunity to ride in the parade floats. While pass holders do get priority, there is still hope. You can try the standby line (near Barney's Backyard play area) for a chance to be selected. Note that all riders under 18 must be accompanied by an adult and at least 48" tall.
Stay nearby at Rosen Inn International
After a fun night out at Mardi Gras Universal, you won't have to drive far to your room at Rosen Inn International. We are located 5 minutes away, and even offer free scheduled transportation to Universal Orlando Resort. To check availability, click on the orange button at the top or call us at 407-996-1600.