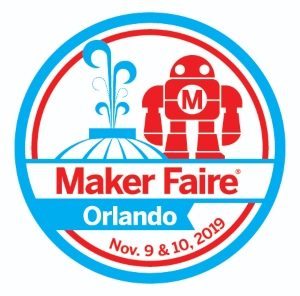 From garage tinkerers and tech enthusiasts to artists, designers, engineers, and crafters, the Central Florida Expo Center & Fairgrounds invites all makers to show off their creations and share their passions when the Maker Faire returns to Orlando on Saturday, November 9, and Sunday, November 10, 2019. Referred to as the "Greatest Show (& Tell) on Earth," Maker Faire Orlando opens at 10 a.m. and closes at 5 p.m. on both days of the event.
Maker Faire Highlights
A non-profit, community-organized festival produced by The Maker Effect Foundation, the treasured faire is a family-friendly celebration where those who love to experiment and create can showcase their inventions. Such exciting events include:
• Robot Ruckus – Featuring the top "BattleBots" teams in the country, the Robot Ruckus includes robots from 150 grams to 250 pounds battling it out in the largest heavyweight combat robot competition in the United States!
• Power Racing – Mario Kart comes to life as Maker Faire invites daring makers to race their modified, customized, kiddie Power Wheels vehicles around the track.
• Nerdy Derby – Inspired by the Cub Scouts' Pinewood Derby, the Nerdy Derby is a miniature race car competition where attendees can bring their own cars or build one onsite using recycled materials.
• Hands-On Exhibits – This year's faire includes imaginative workshops where attendees can create and take home unique make-your-own crafts such as dexterity balls, t-shirts, LED apparel, buttons, pop-up cards, mini steampunk top hats, vacuum-formed plastics, and Makey the Robot figurines.
Make It a Full Day of Fun
After experiencing all the rockets, robots, and creative madness at Maker Faire Orlando, you'll want an affordable and comfortable place to lay your head. Make sure to book your stay through Orlando Hotels 4 Less to get the lowest possible rates. Call us at 1-866-337-6736 to reserve your room today.