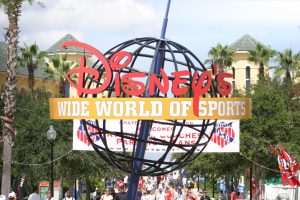 Located at Walt Disney World Resort in Orlando, ESPN Wide World of Sports Complex is a grand, 220-acre facility that plays host to multiple sporting events each month. Whether you're a participating athlete or a supportive spectator, you will be amazed by the size and scale of Disney's impressive venue. From large-scale championships and competitions to tournaments and training classes, here are some of the exciting events coming to the state-of-the-art complex in February 2020.
Disney Field Hockey Showcase
From January 31 to February 2, 2020, competitive field hockey teams are invited to show off their passion and skills at this premier USA Field Hockey­­ sanctioned event that attracts the country's top players, clubs, college coaches, and recruiters.
National Dance Team Championship (UDA)
Occurring January 31 to February 2, 2020, and administered by Universal Dance Association, the National Dance Team Championship welcomes junior high and high school teams from all over the country. Contestants will compete in the only national-level dance team championship that is endorsed by the National Federation of State High School Associations.
National High School Cheerleading Championship (UCA)
The most prestigious cheerleading championship in the country, the National High School Cheerleading Championship returns to Orlando February 7 – 9, 2020. This annual televised event invites national co-ed high school squads to compete for the title in front of an international audience of over 100 million homes on ESPN and ESPN2.
Twirl Mania International Championship
Combining the grace of a dancer, flexibility of a gymnast, and throwing precision of a quarterback, baton twirling is an exquisite sport to watch. The Twirl Mania International is a one-of-a-kind championship that will award the best solo and paired twirlers as well as auxiliary units, poms, and dancers. The annual event, taking place February 13 – 17, 2020, also features a parade at Disney's Magic Kingdom Park.
USA Competitions Presidential Classic
A magical experience for parents, coaches, and athletes, the USA Competitions Presidential Classic honors the best in competitive gymnastics for levels 1 – 6 and Xcel. The competition takes place February 14 – 17, 2020, during which male athletes will compete on Friday and Saturday only, and female athletes will compete Friday through Monday.
Disney Presidents Day Soccer Festival
Over Presidents Day weekend (February 15 – 17, 2020), registered U9-U18/19 teams are invited to play and celebrate like champions at Walt Disney World Resort. An FYSA Sanctioned Tournament, Disney's Presidents Day Soccer Festival is open to all USSF/FIFA-affiliated organizations for boys and girls. However, based on USYSA guidelines, only players ages 9 to 19 may participate.
Contest of Champions National Dance Competition
The premier dance nationals competition in the country returns to ESPN Wide World of Sports Complex February 28 – March 1, 2020. Attendees can watch as champions take the stage during the studio dance competition on Friday and enjoy the spirited school dance competitions on each day of the event.
Get the Best Room Rates in Orlando
If you or a family member are competing in one of February's sporting events at Disney's ESPN Wide World of Sports Complex, you'll likely need a place to stay while you're in town. Plan ahead by reserving a room at a nearby Orlando hotel that can comfortably accommodate your large party of supportive family and friends.
To get the most out of your trip to the happiest place on earth, book your stay with Orlando Hotels 4 Less. We offer a large selection of quality rooms at a variety of Orlando hotels and resorts. Reserve your room in Orlando for the lowest possible rates by calling 1-866-337-6736 today.