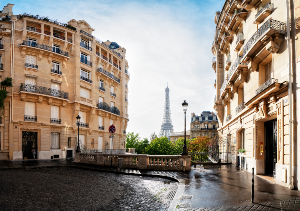 Ever since Remy's Ratatouille Adventure opened in Disneyland Paris, Disney fans stateside have been clamoring for a taste of Remy's fame here in Walt Disney World. Well, we've got great news. Save your money on an overseas flight and take a road trip to Epcot in Orlando, Florida. With the help of Disney magic, we'll explain how make this trip seems as if you are visiting France. Of course, the pièce de résistance is Epcot's newest ride Remy's Ratatouille Adventure.
Road Trip
It's time to finally get out of the house and feel the freedom of travel. It comes as no surprise that we've seen an increase in car rentals bookings in Florida. Gas prices are low. More importantly, with just your family in the car, it's the safest way to travel these days. Our car rental partners Enterprise have revised their business procedures to help keep customers and staff safe while getting you into the right vehicle. Be sure to rent a car or SUV large enough to comfortably fit the family and your belongings.
Tickets to Epcot
You spent spring and the better part of summer cooped inside. We faced a lot of hardships, but eating out and driving far less than normal may mean a little money was saved. If you're planning for your next trip, consider Disney's different ticket options. Also keep in mind that Clarion Inn Lake Buena Vista, soon to be Rosen Inn Lake Buena Vista, offers Disney ticket and hotel stay packages.
A Day or Two in France, er, Epcot's France Pavilion
Now that you've got the basics of the family trip planned—car rental, hotel, and theme park tickets—let's fill your theme park days with fun. Epcot is divided into neighborhoods: World Celebration, World Discovery, World Nature, and World Showcase. Today we focus on World Showcase, specifically the France Pavilion.
Remy's Ratatouille Adventure
Finally, we get to experience the new and completely trackless ride: Remy's Ratatouille Adventure! Who could forget the amazing adventures of the best chef in Gusteau's Kitchen, the gastronomist rat with the talented sense of smell and a gift for cooking? On Epcot's newest ride, you'll shrink to the size of Chef Remy and join him on a wild run through Gusteau's kitchen. The trackless ride combines 3D movie magic, creative screen angles, and an oversized set to make you feel as if you're truly scurrying under the feet of giant humans.
We're hoping the wild adventures of Chef Remy through Gusteau's kitchen will leave you with a giant appetite because that's where Disney set magic and cast members help make this visit feel like a real walk through parts of France.
Choose Your Own French Foodie Adventure
Remy's Ratatouille Adventure ride expands the France Pavilion with a whole new alley offering new views and a new restaurant. Scenic details with careful attention to metro stops, intricate street lamps, building facades, and a clever view of the Eifel Tower transport you to the streets of Paris. What could complete this illusion? Food, mon amie, and lots of it.
La Crêperie de Paris
As soon as you exit the new ride, head over to Epcot's first-ever crêperie featuring dishes and drinks from the Brittany region of northwest France. Under the creative direction of Chef Jérôme Bocuse, the menu features sweet and savory crepes and a healthy dose of apple inspired items, as is popular in the Brittany region. You'll also find a great selection of French hard ciders here. La Crêperie de Paris offers quick-serve and dine in options.
Les Chefs de France
The restaurant décor and flavors pay homage to Lyon, France, the hometown of Chef Jérôme Bocuse, the restaurant's menu mastermind. Sit and savor the views while you and your family enjoy French nouvelle cuisine prepared and served with great attention to detail.
Monsieur Paul
Upstairs from Les Chefs de France, is the finest French restaurant in Epcot. Splurge on excellent haute cuisine from an a la carte menu or prix fix menus. Those opting for the latter may choose between a 4-course tasting menu and a prix fixe menu degustation. This restaurant was formerly the Bistro de Paris but changed names when it was refurbished. Chef Jérôme Bocuse also oversees this fine-dining restaurant.
Les Halles Boulangerie Patisserie
This quick-serve pastry shop offers more options than delicately-made desserts making it perfect for lunch, but don't miss out on their renowned French pastries. Grab a freshly made croissant, éclair, mousse, or tart and pair it with a cheese platter or sandwich. Don't forget to order a French roast coffee as well.
L'Artisan des Glaces
Step in and cool off with your choice of any sixteen flavors of artisan ice cream and sorbet—all made onsite. Adults can add a shot of liqueur for a personalized touch to this craft dessert.
Dormez Bien
After a day of racing through Gusteau's kitchen with Chef Remy and exploring French cuisine from Chef Bocuse, you'll want a place close by for a night of great sleep. Rosen has a great selection of hotels for all types of family sizes and budgets. Check out what each of our hotels have to offer. We care about our guests' safety. At every hotel, you'll find free parking, daily room service, plenty of hand sanitizer, and ample to-go meal options. Click the Check Availability button at the top of this screen to start booking today.
With so many creative restaurants and attractions in Orlando and at Walt Disney World, it's easy to turn a road trip into one that explores cultures across the globe. We've waited long enough. Let's get back to the freedom and joy of traveling.