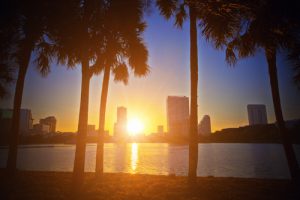 Orlando is one of the most well-known vacation destinations in the world and sees over 50 million visitors each year. Big-name attractions and theme parks get much of the attention of tourists, but there are plenty of things to do in Orlando for free!
Harry P. Leu Gardens
Though Orlando is known for its man-made attractions, there are a plethora of natural options to explore including this private garden. Stroll the three miles of walkways through rose gardens, a butterfly garden, ancient oak trees, and other picturesque scenery. Get there on the first Monday of the month for free admission.
Cornell Fine Arts Museum
As one of the oldest collections of fine art in Florida, Cornell Fine Arts Museum is rare in that their admission is totally free, and they feature a high-quality collection of over 6,000 works from the Renaissance and Baroque periods. Families are encouraged to visit. Art lovers of all ages are sure to have a great time.
Disney Springs
Disney is not the first thing that comes to mind when you think of free entertainment, but at Disney Springs, there are several free options at your disposal. The World of Disney store, Lego Imagination Center, and various events throughout the year bring the wonder of Disney to your family without the cost of entering the theme park.
Lake Eola Park
This 43-acre park lies in the heart of Orlando's metropolitan area and features fountains, a walking path, playgrounds, periodic concerts and live entertainment, swans to feed, and even swan-themed paddle boats if you don't mind paying a slight fee. The feeling of being in such a natural environment in the heart of Orlando is truly a unique experience you won't want to miss.
Orlando Brewing Company
As Orlando's only organic brewery, the Orlando Brewing Company is a staple of Central Florida's culture. Stop in for a free tour of their facility Monday through Saturday at 6 p.m.
With plenty of free options for entertainment in Orlando, it has never been easier to have an unforgettable vacation on a budget.