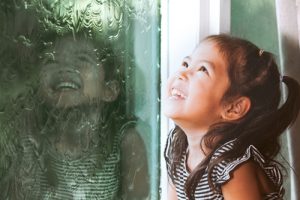 With summer weather fast approaching here in Florida, one thing that will surely accompany the warmth is rain. Afternoon showers are a fact of life in Orlando, but if you're here visiting on vacation, there's no need to let a little rain keep you from having fun. There are plenty of ways to have fun right inside your hotel room! Some activities get you moving, some let your creativity run wild, and some are just fun. Here are some of our favorite rainy day activities.
Dinner and a show!
If you've got the kiddos with you on vacation, have them put on a "dinner show" for you! Suggest a few characters or let them pick their own theme, create a fun story line, improvise some dress-up clothes, and let your kids create a play to show the family at dinnertime. For even more fun, use your smartphone to record their performance so they can see it later!
Break out the board games
A tried and true staple of rainy day activities is good old fashioned board game time. If your family is competitive, and it doesn't look like the rain is going to let up any time soon, Monopoly is a classic that can make for hours of fun.
Movie Time
Few things beat being able to take the time to pop some popcorn, grab some cold drinks, and settle in with some of your favorite movies on a rainy day. Re-watch long-time favorites, or take the time to branch out and try something you've never seen before. This is an easy way to keep the whole family entertained for hours while you wait for the weather to pass.
Dig into a good book
Many of us struggle to find the time to read consistently, and if there's a book you've been itching to read, there's no better time than a rainy day. Not only does it feel cozy, but you won't feel like you're missing out on the day! Don't feel bad if you doze off either, a rainy day is a perfect opportunity for you and the family to get caught up on sleep after the hustle and bustle of vacation activities.
There's no need for a rainy day to be dull and dreary, even on vacation. With just some imagination and some preparation, your entire family can have a memorable time!
When you're planning a vacation to Orlando, you can count on Orlando Hotels 4 Less to get you the absolute best rates on the best hotels throughout the city.