The time has come. It's the haunting season, and you want to get your scare on at Universal Orlando's Halloween Horror Nights. 
Each year, Universal adopts a new, more frightful theme. In 2022, the theme park giant celebrated everyone's favorite aspects of Halloween, featuring classic concepts like Michael Myers, The Horrors of Blumhouse, Fiesta de Chupacabra, and more. This year, you'll get to join the "Fight Against Vecna" and trek through an abandoned Pittsburgh in the Stranger Things and The Last of Us themed haunted houses. You'll also have to fight for your life in the killer Chucky and The Exorcist haunted houses.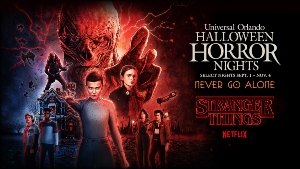 Although the scare actors are the ones getting paid to look the part, that doesn't mean you can't conjure up some horrifyingly on-theme costume ideas yourself! You just have to make sure they're following Universal's Costume Guidelines. 
Here's how you can dress to impress without causing costume guideline distress at this year's Halloween Horror Nights. 
DO Wear…
If you're looking to dress up as one of your favorite characters from Stranger Things, then make it easy by pulling items from your own closet. 
Create the iconic Henry Creel "001" look by simply wearing a white long-sleeve button down and white pants. 
Cheerleader costumes have always been a Halloween staple, but you can be even more on theme by donning the Hawkins High School logo and sporting its green and yellow colorway. 
Recreating Eddie Munson's signature look is quick and simple; all you need is a leather jacket, a denim vest, and his iconic Hellfire Club tee. 
Robin and Nancy shared some iconic looks last Stranger Things season as well. Uncover the key to surviving Vecna by donning these two's disguises as university students during their interview with Victor Creel. For Robin, simply put on a frilly pink blouse, a cream-colored cardigan, and a blue and pink floral-patterned skirt. Nancy's getup is just as simple as all you'll need is a white button-up and a blue plaid blazer and skirt.  
Dressing up as The Last of Us' Ellie and Joel is just as easy. Thankfully, because these characters are too busy trying to survive in the post-apocalyptic Runner's world, they aren't too worried about wearing what's "in."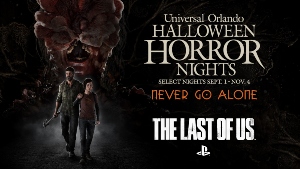 For Ellie, you can order her T-shirt online and wear some blue skinny jeans, a black long-sleeve tee, white high-top Converse, and an olive-green backpack with a radioactive enamel pin. 
Similarly for Joel, all you'll need is a green plaid button-up long sleeve, some dark men's jeans, a wristwatch, any old pair of work boots, and a tan outdoor rucksack. 
Dressing up as Chucky is easy: overalls and a striped long-sleeve shirt. If you really want to get creative, you can paint "Good Guys" on the front pocket and all the other designs that make up the twisted toy's attire. 
DON'T Wear…
One aspect of classic Halloween characters' abilities to give off an ominous and fearsome essence would be their masks, and unfortunately, that's something you can't wear at Universal Orlando. Safety is a huge priority at this park, and being recognizable goes hand-in-hand with that rule. 
Most rides at Universal Studios are still operational during Halloween Horror Nights, and as such, the same clothing rules apply. Veils or long trains are not permitted as they can get caught in rides, as well as pose a tripping hazard to those nearby. 
Sometimes, our favorite characters in media are accompanied by furry or feathered friends. However, Universal Orlando is still a theme park meant for people — not pets — so live animals are prohibited. So, if you planned on coming to Halloween Horror Nights as Harry Potter and wanted Hedwig by your side, they'll have to sit this one out. 
One of the most important costume guidelines is that swords and weaponry are not permitted. These items may put the horror in this Halloween event's namesake, but safety still comes first. Let Ellie and Joel handle the runner hunting and leave the sniper rifles and tactical shotguns at home. 
No matter what time of year it is, Potterheads will always show up to Universal prepared to battle "He Who Shall Not Be Named" with their wands in tow. Provided, of course, that these wands are rounded on either end and appropriate in nature, per the park's guidelines. 
If you're looking to wear a costume that falls outside of combining everyday articles of clothing, you must make sure that it does not exceed 28 inches wide and 80 inches high in accordance with Universal Orlando's metal detection regulations. 
Be careful with what you decide to dress up in as costumes may undergo secondary X-ray screening. It's up to Universal to decide if your costume is acceptable. If it's not, you may be asked to remove the costume or leave the park. 
Don't bring too many props to the park as you may have to give them up to the Universal CityWalk hub if they're considered inappropriate. You can't give off the impression that you're a team member, so don't go too crazy in the costume department.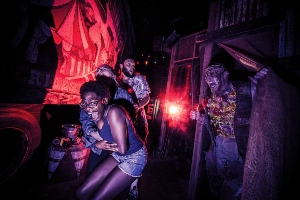 Dressing up as your favorite fictional foes is one of the many reasons people look forward to the Halloween season, but it's important to remember that at Halloween Horror Nights, you're there to be scared, not do the scaring. So, while there may be some limits on how much you can deck out your costume, there are still dozens of ways to ensure it stays on theme while still turning all the heads. 
Treat Yourself to an Affordable Stay
Stay at one of our four Rosen Inns, all conveniently located near Universal Orlando and other major theme parks. Booking through Orlando Hotels 4 Less ensures you receive the lowest available rates coupled with a cozy, comfortable stay.