Are you ready to test your might at Halloween Horror Nights?
Halloween Horror Nights (HHN) is returning to Universal Studios Florida for its 31st year. The separately ticketed event will run on select nights from September 2-October 31, 2022. So get ready to enter the fog.
Haunted Houses
You'll want to run but you must walk through the main attractions of Halloween Horror Nights: its frightening haunted houses. This year's 10 houses, featuring both horror icons and brand-new characters, test your willpower and heart.
At the time of writing, Universal announced these house themes for 2022:
The Horrors of Blumhouse immerses you in the wicked worlds of the horror films Freaky and The Black Phone.
The Weeknd: After Hours Nightmare transports you into the twisted mind of the award-winning singer.
In Spirits of the Coven, venture into a 1920s speakeasy run by beautiful but dastardly witches.
Break out the citronella before heading into Bugs: Eaten Alive. Make your way through a charming midcentury home with an icky insect infestation.
In Fiesta de Chupacabras, live it up at a Latin American town's annual festival. That is, until a Chupacabra appears and wreaks havoc.
Hellblock Horror – Plan your prisonbreak before you face the wrath of monstrous inmates.
Dead Man's Pier: Winter's Wake transports you from sunny Florida to a snowy fishing village. The tiny town seems pretty quaint, but something sinister lurks beneath the water.
Board a spooky subway in Descendants of Destruction. Escape the mutant passengers or ride the rails to Halloween Horror Nights ruin.
Scare Zones and Shows
You think you're safe because you're not in a house? Wrong.
Between haunted houses, Halloween Horror Nights packs the park with five scare zones. In the past, we've seen scare zones featuring Rob Zombie and Zombieland, and original themes like Gorewood Forest. There's nowhere to hide in these open scare zones where sometimes it's hard to tell scare member from guest. Stay alert!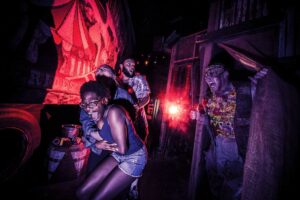 At least there's some safety in the live shows.
Finally, you get to enjoy the show from a safe distance. Previous live shows have included the Marathon of Mayhem water show and Halloween Nightmare Fuel.
Food So Good, It's Scary
Make sure you head to the park on an empty stomach because HHN's food is to die for!
Universal typically serves menu items that go with the year's haunted houses. For example, the 2021 event paired the Texas Chainsaw Massacre house with Texas barbecue. We expect that fan favorites such as pizza fries and twisted taters will also make a comeback.
Be sure to stock up on spooky sweets, like gummy beating hearts, at Universal's Tribute Store.
Rides and Attractions
If you're hoping to go on some rides during your night in the park, you're in luck.
Select Universal attractions will remain open during the event. These include favorites such as Rip Ride Rockit, Revenge of the Mummy, and MEN IN BLACK Alien Attack. These rides will bring extra thrills to Halloween Horror Nights.
Stay Near the Chills and Thrills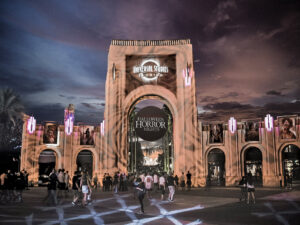 If you're headed to Orlando for a night of fright, consider booking your stay at a Rosen Inn. Three of our Orlando hotels (Rosen Inn International, Rosen Inn, and Rosen Inn at Pointe Orlando) are official Universal Partner Hotels, just minutes from the parks.