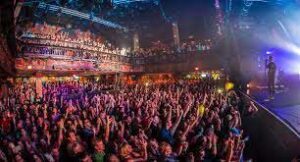 House of Blues Orlando is one of the City Beautiful's most exciting music venues. Here are some of the acts you can catch this April 2023.
Amway Center Lineup
LUCKI: Flawless Like Me: The Made Martian Tour – Saturday, April 1, 2023
Chicago rapper LUCKI made waves with his debut project, Alternative Trap, in 2013. His most recent album, Flawless Like Me, peaked at No. 12 on the Billboard 200 chart. Fans can expect to hear hits like "Sunset" and "KAPITOL DENIM" when he takes the House of Blues stage.
HA*ASH: Mi Salida Contigo Tour USA 2023 – Saturday, April 8, 2023
Louisiana sisters Hanna Nicole and Ashley Grace Pérez formed HA*ASH in 2002. The duo combines Latin beats with country and pop rock. HA*ASH have received two Billboard Latin Music Award nominations. Through the years, they've released more than a dozen chart-topping singles, including "Impermeable" and "Lo Que un Hombre Debería Saber."
Aly & AJ: With Love From Tour – Wednesday, April 12, 2023
Aly & AJ is a dynamic rock duo formed by musician/actress sisters Alyson and Amanda Joy Michalka. Aly & AJ are best known for their early 2000s hits "Chemicals React" and "Potential Breakup Song." They're touring to promote their latest album, With Love From.
Umphrey's McGee – Friday, April 14, 2023
Umphrey's McGee is known for their unique blend of rock, funk, jazz, and country. The experimental band draws inspiration from The Police, The Beatles, and Led Zeppelin. They've released more than two dozen studio and live albums that have reached the Top 20 on the Billboard charts.
Masego: You Never Visit Me Tour – Saturday, April 15, 2023
Masego is a self-taught virtuoso, specializing in saxophone, piano, and vocals. The 23-year-old artist produces his own music while collaborating with artists like GoldLink, Chance the Rapper, and Kehlani. Masego will also blend comedy into his music on his "You Never Visit Me Tour."
Mac Ayres – Thursday, April 20, 2023
Musician and producer Mac Ayres released his debut EP, Drive Slow, in 2017 to critical acclaim. After receiving attention from outlets like Vogue, Billboard, and the BBC, he released two more albums, Something to Feel and Juicebox.
Spiritbox with special guests After the Burial and Intervals – Wednesday, April 26, 2023
Spiritbox combines electronic and physical instruments to create an innovative metal sound. Inspired by bands like Nine Inch Nails and The Cure, Spiritbox has released four records featuring chart toppers like "Constance" and "Circle with Me."
BACILOS: Back in the USA '23 Tour – Friday, April 28, 2023
Based in Miami, BACILOS is a leading Latin pop band. They've received three Latin Grammys and one Grammy for their sophomore album, Caraluna.
VV: Neon Noir Tour – Sunday, April 30, 2023
Originally the lead vocalist of gothic rock band HIM, Ville Valo is one of the most successful Finnish artists of all time. He's released a dozen records, including his latest, highly anticipated album, Neon Noir.
Stay Close to the House of Blues Action at a Rosen Inn
Enhance your House of Blues adventure with a stay at a Rosen Inn. Our four Orlando hotels provide affordable luxury, clean and comfortable rooms, and convenient access to the city's top concert venues.