Orlando's famous International Drive is only 11 miles long, but it is home to over 300 restaurants. Add in the dining options on nearby Kirkman Road and Orange Blossom Trail, and you've truly got a foodie's paradise. Best of all, these eateries are all minutes from Orlando's top attractions.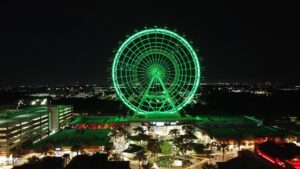 Given the variety and quality of I-Drive's restaurants, it's no surprise that the area regularly appears on popular food TV shows.
From crowd-pleasing cakes to global takes on comfort food, here are six I-Drive area restaurants that have been showcased on your favorite food TV programs.
1.      Café Tu Tu Tango
In 2002, celebrity chef Rachael Ray came to the City Beautiful, seeking big flavors on a small budget.
She ended the Orlando episode of her food TV show $40 a Day at Café Tu Tu Tango.
The tapas spot sits in the heart of I-Drive. The restaurant opened in the early '90s after its owners returned from a trip to Spain. While in Barcelona, they learned how the city's bars and restaurants served as gathering places for local artists. They decided to create a similar community space in Florida.
Have a seat inside and take in the colorful art adorning the walls. Or sit outside and soak up the Florida sunshine.
Either way, you'll enjoy cuisine as inspiring as your surroundings.
The menu features a rotating selection of small plates. When Ray was there, she enjoyed a fresh salad and a mouthwatering pork dish. Currently, the restaurant features Mediterranean staples like papas bravas, croquettes, and tzatziki, along with tacos, pizza, and sandwiches.
These dishes pair perfectly with Café Tu Tu Tango's authentic sangria.
2.      ICEBAR
Emeril Lagasse showcased the Sunshine State's thriving culinary scene on Emeril's Florida, a food TV show which ran from 2013 to 2017.
In the first episode, he chills out at ICEBAR on International Drive.
This year-round winter wonderland features ice sculptures, ice furniture, and other ice décor. Lagasse sipped a craft cocktail from a cup made of ice as he chatted with owner Patz Turner. Like the Café Tu Tu Tango Team, Turner's business was inspired by her travels. In her case, it was a trip to Antarctica.
To keep the furniture from melting, Turner keeps ICEBAR at 27 degrees Fahrenheit. Don't worry — a parka rental is included in your $15 cover fee.
ICEBAR serves ice-cold drinks like the "Polar Mojito" and a passion fruit martini called the "Ice Queen." When the frosty fun is over, warm up at the connected Fire Lounge. There, you can savor the flavors of flatbreads, tacos, and sliders.
3.      Pirates Dinner Adventure
Arrrr you ready for a night of supreme cuisine and swashbuckling fun?
Food TV host Graham Elliot was ready when he traveled to Orlando in 2015. Season 1, episode 3 of Craziest Restaurants in America was all about restaurants that go big. Elliot visited a Mexican restaurant in Colorado with a massive waterfall and a Texan steakhouse that dished out healthy helpings.
Then, he set sail for Pirate's Dinner Adventure near International Drive.
This unique dinner theater features a colossal ship on which buccaneers show off their sword skills and sing sea shanties. As the action unfolds, you'll enjoy a three-course meal and unlimited soft drinks. Main courses include roasted chicken, grilled pork, or veggie penne.
Adult admission starts at $68. Upgrades include front-of-house seating, alcohol packages, and premium entrées like a surf and turf platter.
After the show, join the cast for an all-ages dance party.
4.      Fat One's Hot Dogs & Italian Ice
Guy Fieri has taken food TV fans to Flavortown since Diners, Drive-Ins and Dives premiered in 2007.
In 2017, Fieri chowed down at an Orlando hot dog stand dazzling with star power.
Fat One's is owned by Joey Fatone of 'N Sync fame. The eatery started as a cart in the Florida Mall. It now operates out of a food truck that stops all around Orlando. When Guy Fieri visited Fatone, the singer and restauranteur served him a variety of artisan hot dogs.
Fieri ended the food TV segment with the signature "Fat One."
This option comes loaded with mozzarella cheese, corned beef, french fries, and pepperoni. On the show, an employee described it as a "kitchen sink dog,"
Other options include the "Bensonhurst" with pimento cheese and the "Angeleno" with bacon jam and jalapeños. And thanks to the vegan "Not Dog," even those who have said "bye, bye, bye" to meat can join the fun.
To see where the food truck will appear next, check the Fat One's website.
5.      Mrs. Potato
In the same DDD episode, Fieri and Fatone visited Mrs. Potato, an a-peel-ing restaurant near Universal.
As the name suggests, the menu features tons of tasty tubers.
On the show, owner and chef Rafaela Cabede cooked carne seca, a form of dried beef popular in Latin America. She then fried the meat with some savory spuds. As she cooked, Cabede explained that after moving to Florida from Brazil, she missed Brazilian potato dishes. So, she opened Mrs. Potato in 2014.
Mrs. Potato serves a variety of baked potato and hash brown platters with fillings like shrimp, bacon, and Brazilian catupiry cheese. You'll also find classic Brazilian dishes like feijoada and empanadas.
Wash it all down with an authentic caipirinha.
6.      Carlo's Bake Shop
From 2009 until 2020, the Valastro family tantalized viewers with sweet treats.
Cake Boss centered on Carlo's Bake Shop, the family's New Jersey bakery. Italian pastry chef Carlo Guastaferro started the business in 1910. He eventually sold it to one of his employees, Buddy Valastro Sr. When Valastro died in 1994, his teenage son took over.
Buddy Valastro Jr. went on to wow food TV fans as a contestant on Food Network Challenge.
His baking skills and bold personality soon landed the family a TLC show.
Viewers were so eager to try the Valastros' gorgeous cakes that the family began opening satellite locations across the country. You'll find one in the Florida Mall.
The Orlando bakery serves authentic Italian pastries and seasonal cookies. And, of course, you'll find a variety of boss cakes. Stop in and pick up a premade chocolate fudge, rainbow vanilla, or cannoli cake. If you're in Orlando for a special occasion, the team will write a custom message on your cake for a small fee.
More Orlando Restaurants You've Seen on Food TV
The bustle of International Drive can't be beat. But it's not the only part of Orlando with restaurants worthy of primetime.
To help you explore other restaurants that have been featured on food TV, we've compiled guides to:
Rosen Inns: Something for Every Food TV Fan
Before you embark on your culinary tour of Orlando, book a room at a Rosen Inn.
Three of our four Orlando hotels are on International Drive, minutes from the excellent eateries featured here. After a day spent feasting on heavenly hot dogs and terrific tapas, return to your cozy guestroom. Catch up on your favorite food TV shows from the comfort of your plush bed.
Or enjoy another marvelous meal at one of your hotel's on-site dining establishments.