An expanse of rolling hills, the sound of melodic blues music, and the great taste of wine and cheese make for a delightful day at Lakeridge Winery & Vineyards. You can enjoy all this and more by attending Blues at the Winery 2020, an annual two-day event hosted by Lakeridge on April 18 and 19.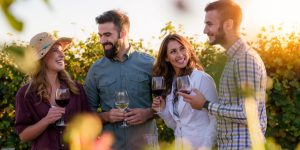 Music to Your Ears
Featuring some of Central Florida's top blues musicians, the festival will include outdoor performances throughout the day. Bring a lawn chair or blankets and sit amongst the trees, listening to the sweet sounds of the blues. The entertainment schedule includes the following dates and times:
April 18, 10:00 a.m. – 1:30 p.m.
April 18, 2:00 p.m. – 5:00 p.m.
April 19, 11:00 a.m. – 1:30 p.m.
April 19, 2:00 p.m. – 5:00 p.m.
Additionally, live performances at the Wine & Cheese Bar are sure to entertain. Musicians will perform from noon to 4:00 p.m. on both event dates, which include some of the area's most popular solo acts. The comforting blues music surely will make you sit back and relax.
Food for Thought
Blues at the Winery 2020 is not complete without delicious food, which ranges in culture and cuisine. Food options include American, Greek, and Mexican to allow for variety. Also served are seafood, BBQ, wraps, and salads.
Wine — we can't forget it. The winery offers famous wines by the glass, import and domestic beers, and soft drinks to be enjoyed. At the Wine & Cheese Bar, you can complement your beverage of choice with one of many cheese plates, too.
Lastly, consider indulging in desserts like wine slushies, Twistee Treat ice cream, and kettle corn. These are sure to satisfy your sweet tooth and provide a good end to your meal.
Wine at the Winery
Partaking in a winery tours and wine tasting only make sense while at Lakeridge. Attend a tour and watch the process of wine-making come to life. Tours run every 15 – 20 minutes. Then sample six to eight different wines while you stroll through the production area and pause at the wine stations. Wines vary from dry to sweet and red to white. Be mindful of ID requirements for tastings, which include passports for international guests.
Stay Awhile
Lakeridge Winery & Vineyards provides an exciting outing for the entire family. However, Central Florida also offers a host of other attractions to be explored.
While in the area, Orlando Hotels 4 Less provides quality affordable hotels to make your stay more comfortable. Call them at 1-866-337-6736 to reserve your room or click the "Check Availability" button at the top of the homepage.