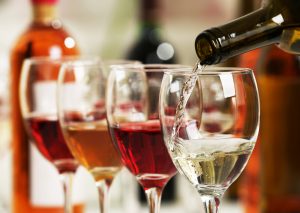 To start the New Year off on the right sip, Lakeridge Winery & Vineyards is putting together a seasonal series unlike anything else in Central Florida. Pairing local wine makers and music creators, Lakeridge's 2020 Winery Winter Series is pulling out all the sensory stops on select January dates.
Have Fun in the Sun and Shade
Lakeridge Winery & Vineyards encourages attendees to get as comfortable as possible. Set up your travel chair and bundle up in your favorite blanket to make your outdoor seat the best one at the event. When you're ready to get back on your feet, challenge your friends and family to a game of corn hole set up right on the vineyard.
If you want to continue the fun and take in more of the beautiful venue, tag along on a complimentary wine tour. Get insight on professional Florida grape growing, the local winemaking process, and bottling the perfect batch while your guide takes the tour throughout the grounds. When you make it to the production area, stop by the various stations and appreciate award-winning wines.
Listen to Local Artists Inside and Out
Sip to the sounds of local artists handpicked for the event as part of the Lakeridge Winery Music Series. Some of Central Florida's most talented musicians take the stage outdoors and upstairs at the wine and cheese bar to entertain guests while they savor quality flavors. You can catch artists of the Winery's music series from noon to 4 p.m. on select dates, including:
January 4, 2020
January 11, 2020
January 18, 2020
January 25, 2020
Fill Your Plate and Your Glass
When you're ready to feast, pop into the food court and sample options from a variety of cuisines, including American, Mexican, and Greek. Whether you're in the mood for something light and crisp, like a salad and wrap, or something sweet and indulgent, like ice cream and kettle corn, you can find your fill and pair your choice with the perfect beer, wine, or soft drink.
Head upstairs to the wine shop and place an order straight from the wine and cheese bar. Choose from the Winery's famous whites, reds, and original wine options and partner your pick with the cheeses of your choice. If you're in the mood for a different sip, grab from the bar's beer options and find the right piece of cheddar to match your craft selection.
Top off Your Day the Right Way   
If you're planning to take in the sips and sounds at this complimentary event, don't book your stay with an overpriced hotel. With Orlando Hotels 4 Less, you can secure a quality stay at an unbeatable rate. Call us at 1-866-337-6736 to reserve your room today or click the "Check Room Availability" button at the top of the page.