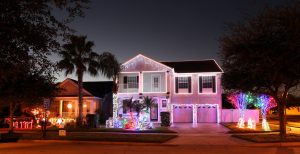 If you're visiting Orlando for the 2018 holiday season, the Lights on Jeater Bend celebration is something you should be sure to put on your list. This singing-and-dancing street celebration goes on every night throughout the holiday season and features some of the most breathtaking light displays anywhere.
Located in the town of Celebration, the Lights on Jeater Bend is comprised of 11 homes with perfectly synchronized lights and musical scores, giving visitors an immersive, 360-degree Christmas experience.
The awe-inspiring display includes synchronized lights, projections, and even Jeater Bend's own Santa and Mrs. Claus, complete with clips of iconic Christmas movies displayed on a large screen and man-made snow flurries!
Frozen Fans are in for a Treat – As a special treat to those who love the Frozen movie, Anna, Elsa, and Olaf will be on Jeater Bend to take photos with your family! Catch them the weekend before Christmas and the week before Christmas Day.
Train Ride Fun – For the two weekends leading up to Christmas, kids can take a free train ride up and down the street so they can join in on the festivities in a special way.
Concert Festivities – Stop by on December 16th for a performance by Grammy nominee Judy Pancoast at 7pm. Join in on the festivities and help raise money for a local charity called St. Vincent de Paul.
 How Lights on Jeater Bend Raises Money for Charity
Celebration resident Calvin Slater has been orchestrating the breathtaking display since 2010 with the help of participating neighbors. Not only do the lights make for an immersive Christmas experience, they also serve as a way to help families in need.
The St. Vincent de Paul Society is just one of the charities that Calvin donates to, and guests are encouraged to make donations online or in person after visiting the lights. Donations aren't required but they go a long way towards helping those in need during the holiday season.
The St. Vincent de Paul Society sets out to help families and the homeless along the US-192 highway. Assistance includes money for rent, utilities payments, car repairs, and down payment assistance for permanent residences.
The Lights on Jeater Bend celebration runs nightly throughout the Christmas season from 6pm to 10pm each day.
When you're looking for the best deal on your hotel stay here in Orlando, look no further than Hotels4Less. Contact us today and book your stay!