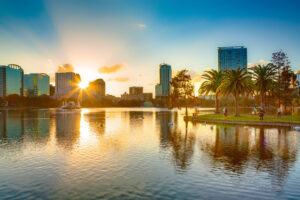 Michelin was bound to take notice of Orlando's seasoned food scene and drop some stars on the City Beautiful.
Why? Orlando attracts top chefs because of its world-class hospitality. Case in point: Orlando has a great concentration of James Beard nominated chefs and restauranteurs. Also, Orlando was recently named the #2 foodie destination in the U.S.
What's so Special about a Michelin Star?
Consider this: as of November 2020, 2,160 restaurants had one Michelin star, 385 with two stars, and 106 with the coveted 3-star designation—on the entire planet.
Let's narrow the view. In the Orlando-Daytona Beach-Melbourne area, there are about 7,705 restaurants. Restaurants with any Michelin star ranking represents an elite group, which are voted on by a team of Michelin inspectors. There are about over 1,000, travel the globe anonymously reviewing restaurants while compiling dossiers on existing star restaurants and up-and-comers.
Michelin inspectors are required to travel up to 3 weeks in a month and eat out for lunch and dinner at least 5 days a week while assigned to a region.
While it seems incredibly difficult to impress the inspectors enough to receive 3 stars (more on that in a moment), Michelin has created a path toward that elite status. The hierarchy of distinctions designed to help promote restaurants of quality starts with nods for excelling in one thing, like having an impressive wine list.
In addition to wine, Michelin's notable category includes quality pubs, tapas bars, and even street-food stalls, but we'll focus on the overall restaurant ratings.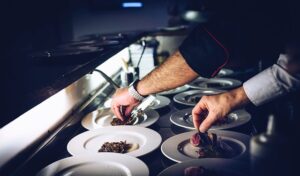 The Plate
The Plate ranking, also known as L'Assiette Michelin, is the new designation in Michelin's rating system which was added in 2018.
Plate restaurants have the foundation set to rise to the star categories. What attracts the inspector's attention are the restaurant's fresh ingredients that are carefully prepared. You feel as if you've eaten a good meal at a value price.
Bib Gourmand
To receive a Bib Gourmand rating means the restaurant serves quality food at a value price, but different from The Plate this meal must cost around $40.
Specifically, it means you get an entrée, a glass of wine, and dessert near $40. Bibendum the friendly Michelin Man and company mascot for the Michelin group serves as the namesake for this designation. Dining at Bib Gourmand restaurants means enjoying a simpler style of cooking. Meals are easy to eat and possibly something you'd try to cook at home. Maybe more important to many diners, a meal at a Bib Gourmand restaurant is satisfying mainly because you ate so well at such a reasonable price. Is there a Bib Gourmand restaurant near you?
1, 2, and 3 Stars
Inspectors battle heatedly with the international director of the Michelin guide to determine which restaurants get stars—if any.
They debate over five key qualifications: quality of ingredients, mastery of flavor and cooking techniques, the perceived personality of the chef coming through in each plate, the value for the price tag, and consistency of all the above between visits. Passion sets apart a 3-star Michelin restaurant from the rest.
Inspectors who are emotionally blown away by a meal that brands itself in their memory stand a great chance to receive the unanimous decision needed to award the top 3-star designation to a restaurant.
Orlando Restaurant Nominees for Michelin Star Consideration or Other Designation
Let's get to the meat and potatoes of the reason why you're here—which Orlando restaurant might win a star or designation? Some critics think Disney stands an excellent chance of grabbing a star or two with its fine dining options. We agree that their choices are excellent and have a few more to add to the list, including more around town.
Victoria and Alberts
James Beard Award Winner for Outstanding Service
Experience fine dining in a Victorian setting. Guests are serenaded through a 6-course meal with expert use of quality ingredients from around the globe, expertly paired wines, and fine desserts served with coffee – brewed the Victorian way, naturally.
This level of sophisticated dining demands formal dress and knowing table etiquette.
Norman's Orlando
James Beard Award Winner for Who's Who of Food & Beverage in America 2003
James Beard Award Winner for Best Chef: Southeast 1997
Chef Normal Van Aken lends his brilliant creative mind and culinary mastery skills to "New World Cuisine" a fusion of Floridian cuisine tossed with influences from Latin, Caribbean, and Asian flavors.
Norman's Orlando is slated to open winter of 2022.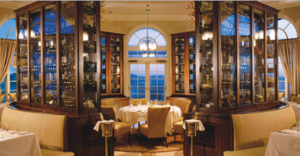 Ravenous Pig
Wife-husband Duo Julie and James Petrakis, both Semifinalists for James Beard Outstanding Restauranteur 2019
This Winter Park landmark and famous gastropub serves American favorites. With a menu that changes daily, it is guaranteed that no two visits will ever be alike.
Kadence
Owners Mark V. Berdin, Jennifer Bañagale, and Lordfer Lalicon all trained at Michelin-starred restaurants.
Here we have omakase sushi possibly at its finest and most affordable. This Audobon Park favorite has amassed a small cult following despite its strict reservation and prepay policy. Reservations open on the first of the month for next month's seating. By the way, there are only eight seats in Kadence.
Jack's Place
A gastronomic study of steak and seafood artistically cooked and presented by the talent in the kitchen. Orlando Magazine ranked Jack's Place the Best Steakhouse on International Drive.
Gordon Ramsay Fish & Chips
While this place may be the last considered for a star, Gordon Ramsey does have four restaurants ranked between 1 and 3 Michelin stars. As well as he knows how to yell grating criticism at aspiring chefs, the man knows how to run elite restaurants. Over his career, Chef Gordon Ramsay has been awarded 16 Michelin stars.
We think his newest installment at ICON Park is definitely worth a visit.
Wherever you decide to dine, consider Michelin that a very good restaurant will be worth a detour or a special journey.
History of the Michelin Guide and Your Future Vacation
If you know that the Michelin stars coveted by haute cuisine restaurants were related to Michelin Tires, then award yourself one star.
Yep, those little red books titled Le Guide Michelin are published by the same company that may have made the tires on your car. With the direct tie into vehicles, maybe it might not come as a huge surprise that this little red book started off as a driving tour guide back in 1898. Back then, there were fewer than 3,000 cars on the road. Early editions included maps, hotels, and recommendations for restaurants. Michelin Tyre out of Paris, France, had to get those few drivers on the road, or, pardon the expression, go bust.
Fast forward more than 100 years and this marketing ploy to get you to drive turned into a renowned fine-dining guide.
Le Guide Michelin no longer includes instructions on how to change a tire or where to buy petrol. Neither is it free. Instead, diners use this guide to find amazing restaurants that provide memorable, high-end, or high-quality dining. Before 2022, visiting a Michelin-starred restaurant—if you live in Florida—required a road trip of sorts as Michelin inspectors only ranked restaurants in New York, Washington D.C., San Francisco, Chicago, and Los Angeles. But now their itinerary on the journey to find fine cuisine expanded to include Florida. This new ranking adds validation to what we knew has been cultivating in Orlando for a long time—that Orlando offers great dining experiences.
Before you hit the road for your next Orlando vacation, come back to this blog and build your next trip around a fine, memorable gastronomic experience.