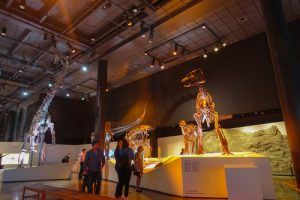 Believe it or not, there is a great deal to do and see in Orlando that doesn't involve going to the theme parks. Central Florida is home to some of the finest museums in the country, showcasing everything from foods and local history, to fine arts and more. Forget the idea of boring and dull museum trips, because this list is full of fun and fascinating museums to visit all throughout the city.
Orlando Science Center
Science comes to life right nearby at the Orlando Science Center. There's something for everyone, with exhibits including 3D movies, planetarium shows, dinosaur skeletons, interactive science exhibits, live animals, and exhibits for kids as well. Here, you can experience the gale force winds of a Category 1 hurricane like so many native Floridians have felt all-too often, and witness live gator feeding for an authentic Florida experience!
Orlando Museum of Art
Featuring both ancient and contemporary collections, the Orlando Museum of Art is inspirational and captivating. Here you can see pottery from Mesoamerica, American paintings and sculpture, modern graphics, and mixed media. In addition to the permanent pieces that reside here, there are regular visiting exhibitions as well.
Fort Christmas Historical Park
For a departure from the hustle of the city, the Fort Christmas Historical Park is perfect. It is located about 20 miles east of Orlando and is an easy stop on the way to or from the Kennedy Space Center. It features gorgeous shade trees, hiking trails, a well-kept playground, as well as a full-size replica of a fort dating back to 1937. The fort is modeled after one of about 200 built during the second Seminole Indian War which went on from 1835 to 1842. So whether you're into American history or nature, this is a great place to visit. Admission is always free as well!
Orlando Fire Museum
Looking for a way to make history more interesting for the kiddos? This restored 1926 fire house is a great start. The Orlando Fire Museum is a tribute to the history of the city's bravest firefighters, and showcases a host of antique equipment, including vintage fire engines. The volunteer guides here are retired Orlando firefighters, so they know a thing or two about what they're talking about. The attraction is open on Fridays and Saturdays, and is totally free to enter – though donations for maintenance and upkeep are greatly appreciated.
Having an unforgettable time in Orlando doesn't have to be all about the theme parks. This is just the tip of the iceberg when it comes to exploring all the museums that Orlando has to offer, and there's something out there to suit every taste and budget. When planning your vacation, be sure to book your stay with Orlando Hotels 4 Less to get the lowest possible rates.