One of the best things about Disney World? No two trips are the same.
The Imagineering team's constant innovation keeps the parks fresh and exciting. In 2023 and 2024, expect a variety of new rides and attractions at Walt Disney World, plus new meet and greets with beloved Disney characters.
Get Ready for New Rides and Attractions at Walt Disney World
Headed to the parks soon? You may get a chance to check out these exciting new attractions.
EPCOT®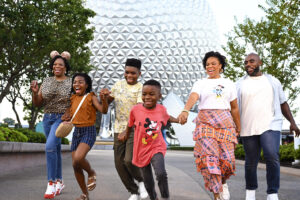 Moana Journey of Water
You're sure to find serenity at the upcoming Moana Journey of Water attraction. A stately topiary of the goddess Te Fiti will look on as you take in the tropical vegetation, interactive fountains, and majestic waterfalls.
The scenic walkthrough attraction will stand in the former location of Innoventions West. And the water wonders don't end there — the pathway exits into fishy fun at The Seas with Nemo & Friends.
Figment Meet and Greet
Figment has shown parkgoers the power of imagination since the 1980s.
Through the years, the popular purple dragon has starred in Journey into Imagination and served as a mascot for the International Food and Wine Festival. His fan-favorite status was solidified in 2022 when EPCOT guests waited in line for hours to buy Figment-shaped popcorn buckets.
In 2023, fans will be able to meet Figment in person for the first time in years.
During the September 2022 D23 Expo, Disney execs announced Figment's triumphant return. His exact location in EPCOT will be announced soon. For now, get ready for one little spark of inspiration at Walt Disney World.
Magic Kingdom®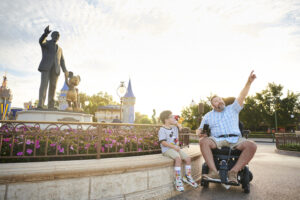 Tiana's Bayou Adventure
You'll soon be able to hop over to Magic Kingdom for a jazzy journey through Louisiana.
At D23, the Walt Disney Company unveiled concept art for Tiana's Bayou Adventure and announced that the Princess and the Frog-inspired ride would open in late 2024. Join Princess Tiana, Prince Naveen, and Louis the alligator for a trip down the bayou. As you help them find ingredients for a special Mardi Gras dinner, you'll meet 16 new characters and see old friends from the film.
This new ride will take the place of longtime Disney fixture Splash Mountain, so expect marvelous music and daring drops.
The Hatbox Ghost at Haunted Mansion
When the Haunted Mansion opened at Disneyland in 1969, parkgoers met the Hatbox Ghost, a ghastly creature prone to losing his head.
Unfortunately, Disneyland soon removed the character from the ride. The technology they needed to make his head disappear and reappear in a hatbox just wasn't there yet. The character, however, lived on in merchandise and film cameos.
In the meantime, technology caught up. Using new special effects, Disney brought the Hatbox Ghost back to Anaheim in 2015.
During D23, the company announced that the creepy character would make his Orlando debut within the next year.
TRON Lightcycle / Run
Hold onto your handlebars! Get ready to explore the Grid when TRON Lightcycle / Run opens in Tomorrowland.
The steel motorbike attraction will be Disney's fastest coaster, clocking in at 60 mph. Modeled after a popular ride in Shanghai Disneyland, it will launch riders through a neon-blue world as Daft Punk tunes pulse all around them.
As of late 2022, Imagineers are testing the TRON ride at Magic Kingdom.
It is expected to open at the Orlando theme park in spring 2023.
Rest and Relaxation at Rosen
After a busy day of checking out all the new rides and attractions at Walt Disney World, head back to your cozy guestroom at a Rosen Inn.
Our four hotels are located in the heart of Orlando, close to Disney and other top attractions. Our Walt Disney World Good Neighbor Hotel, Rosen Inn Lake Buena Vista, even has a free shuttle to and from the parks. Enjoy the best rates on your Orlando hotel by booking with Orlando Hotels 4 Less.