The Orange County Convention Center (OCCC) hosts spectacular, large-scale events year round. Its April lineup is packed with nothing less than you'd expect. Whether you're an athlete competing in a national tournament or a comic enthusiast looking for the next great story, these upcoming events are the ones you need in your schedule.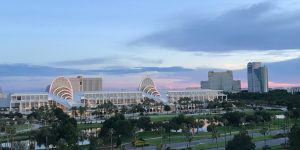 MegaCon Orlando
What do Saved by the Bell, The Mandalorian, and The Lord of the Rings all have in common? Stars from each saga will make special appearances at MegaCon Orlando from Thursday, April 16 – Sunday, April 19, 2020. From photos to autograph sessions, you can meet celebrities like Mario Lopez, Elizabeth Berkley, Giancarlo Esposito, and Elijah Wood. While tons of visitors attend to see these special guests, there are plenty of other amazing exhibits, panels, and booths to check out over the four-day convention, including:
Artist Alley – Meet rising stars on the front lines of the industry and browse their latest works. Limited edition prints, original art, and collectible comics are a few of the one-of-a-kind items you'll run into throughout Artist Alley.
Cosplay Alley – MegaCon isn't complete without a walk through Cosplay Alley. Dressing up as characters from every end of pop culture, cosplayers will pose for pictures and give video shout outs, all while staying in character.
Q&A Sessions – Get advice from your favorite comic book creators, voice actors, and other industry experts at one of the many convention panels, or learn from the best at a MegaCon workshop. With topics ranging from storytelling to animation, you're sure to walk away with a ton of insider knowledge.
All Out Championships Season Showdown
Hosted by All Out Championships, the Season Showdown is a cheerleading competition held all throughout the Southeast. This one-day competition, Saturday, April 25, 2020, at the OCCC, is the ultimate chance to showcase your cheerleading skills, compete with athletes from across the nation, and put your best routine to the test.
Florida Volleyball Challenge 2020
Practice your bump, set, and spike for the three-day Florida Volleyball Challenge 2020. Running from Friday, April 24 – Monday, April 27, 2020, the competition hosts student athletes from across the state of Florida. The tournament consists of two junior regional events: the Qualifier, from April 24 – 26, and the Championships, from April 25 – 26, 2020.
Head to the Heartland
The OCCC sits in the heartland of Orlando, Florida. To stay close to the convention center and Central Florida's other exciting attractions, book your stay with Orlando Hotels 4 Less — where you can find the best offers on the best rooms in the city. Call us at 1-866-337-6736 to reserve your room today.