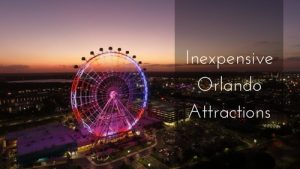 Contrary to what many believe, finding something fun to do in Orlando doesn't require spending a small fortune. The city has plenty of options for entertainment outside of the theme parks that saves you money and adds value to your stay in Orlando.
The following list includes some of the best ways to experience Orlando on a budget. The best part? Everything on the list is under $20 per person.
K1 Speed Indoor Karting
If you have a competitive streak in your personality or feeling the need for speed, K1 Speed Indoor Karting is perfect. Drivers can race their karts through a 70,000-square-foot facility at speeds up to 50 mph. Prices start at $19.99 for a 14-lap race.
Orlando Science Center
For a fun and educational experience, the Orlando Science Center offers hands-on exhibits, programs, IMAX-sized films, and planetarium shows. Tickets are $19.95 for adults, $17.95 for seniors and students, and $13.95 for children ages 3 to 11.
Central Florida Zoo & Botanical Gardens
Take a stroll through the beautiful Central Florida Zoo and experience hundreds of rare and endangered animal species and over 800 different types of plants and flowers. Tickets are $19.50 for adults, $15.95 for seniors, and $13.95 for children ages 3-12.
Kings Bowling Orlando
Kings Bowling Orlando is the perfect place to unwind after a long day to eat, bowl, or lounge around in a comfortable atmosphere. Games range from $6 to $8 per person, per game depending on the day of the week and time of day.
SAK Comedy Lab
For side-splitting laughs from the best local comedic talent, SAK Comedy Lab is the place to be. Stand-up shows and improve sketches happen on select nights, and they always get the audience involved for a truly immersive experience. Admission prices range from $5 to $15 depending on the schedule.
Having an unforgettable time in Orlando doesn't have to break the bank. This is just the tip of the iceberg when it comes to affordable Orlando entertainment. There's something out there to suit every taste and budget. When planning your vacation, be sure to book your stay with Orlando Hotels 4 Less to get the lowest possible rates. Call us to book your room today: 866-337-6736)