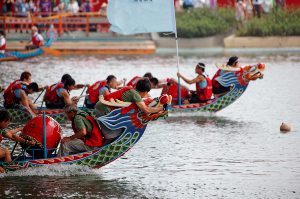 As GWN Dragon Boat's largest event in the country, the Orlando International Dragon Boat Festival is an excellent way for rowers and Asian culture enthusiasts alike to enjoy a day of food, fun, and racing. On October 19, over 70 Dragon Boat racing teams will gather at Bill Frederick Park to compete for a chance to win first place and a free entry to the 2020 Orlando International Dragon Boat Festival.
What is Dragon Boat Racing?
Although dragon boats have been around for over 2000 years, racing these watercrafts didn't become a sport until 1976 in Hong Kong. Typical dragon boats consist of 22 members: 20 rowers, one steerer at the rear of the boat, and one drummer at the bow facing their team. The drummer can be seen as the heartbeat of the boat, keeping the pace for the paddlers and helping them work as a unit.
The boats themselves are adorned with decorative Chinese dragon heads and tails that are only removed during training. To keep aerodynamics, boats are typically made from fiberglass, carbon fiber, or other lightweight materials.
Expo Activities
For the best spot to watch the races and enjoy a cold drink, you'll want to swing by the Beer Garden. Since it's positioned right by the finish line, it's the perfect place to sit back, relax, and sip on a cold beer.
Aside from the exciting boat races you can watch, there is much to experience at the Asian Cultural Expo taking place at the festival grounds. Attendees can enjoy exhibitions, crafts, and performances highlighting Asia's unique and diverse cultures. When it's time to grab a quick bite, you won't want to miss the food trucks that will serve up lunch in the bazaar.
Kids of all ages can play the day away in the Kids Fun Zone which includes:
Mickey Mouse & Scooby Doo Bounce Houses
Corn Hole
Soccer
Inflatable Slides
Giant Jenga
And More!
Nemours will also host the Nemours Healthy Expo, highlighting the importance of leading a healthy lifestyle and the benefits of physical therapy.
Stay Close & Save
Whether you plan on visiting or participating in the Orlando International Dragon Boat Festival, make sure you have somewhere to relax and rejuvenate after the day is done. The Rosen family of hotels and resorts are located less than 20 minutes from all the racing action at Bill Frederick Park, and when you book through Orlando Hotels 4 Less, you'll get the lowest possible rates guaranteed. Reserve a room online or by calling us at 1-866-337-6736.