Every spring, parkgoers parade around Walt Disney World in their vintage finest during Dapper Day.
LA-based fashion designer Justin Jorgensen started the event in 2011 in Disneyland. He'd noticed that his friends, who were typically eccentric dressers, dressed down to fit in with the crowd. He wanted to create an event where his friends, and other fashionistas, felt comfortable expressing themselves at their favorite place.
The retro dress-up event soon spread to Orlando's Walt Disney World.
In 2023, Dapper Day will take place on two days. On Saturday, April 29, participants will flock to EPCOT. The following day, they'll gather at Magic Kingdom.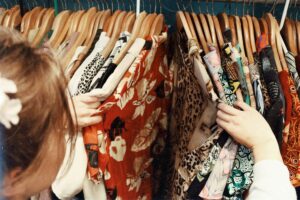 Orlando's many vintage stores are here to help you put together the perfect Dapper Day look. Here are six must-visit spots in the City Beautiful.
1.      The Lovely Boutique
The Lovely Boutique is a huge vintage store with something for everyone.
The Audubon Park marketplace features the wares of over 30 vendors. Among its massive inventory, you'll find a slew of  clothing, mainly from the 1960s – '90s. Once you've found your Dapper Day 'fit, browse for gifts to take home. There's vinyl for the music lover in your life and the always appreciated — and locally made — candles and soaps.
2.      Owl's Attic
Down the road from the Lovely Boutique, you'll find Orlando's grooviest vintage shop, Owl's Attic.
While the store carries clothing from a variety of decades, it specializes in boho pieces from the '60s and '70s. Its racks are filled with concert tees, bell-bottom pants, boho maxi dresses, Western wear, and turquoise jewelry. Owl's Attic also carries modern accessories with a vintage vibe from local vendors like RetroBabeCo and Ochre Labs.
3.      Orlando Vintage Clothing & Costume
Fans of The Marvelous Mrs. Maisel, Mad Men, Stranger Things, or Boardwalk Empire have probably caught a glimpse of an outfit from this College Park vintage store.
Orlando Vintage Clothing & Costume sells authentic clothing from the 1890s to the 1990s, much of it in pristine condition, making this store a go-to for film and TV productions. Stepping into this upscale boutique is like stepping into a time capsule. Even the building is vintage — it was constructed in 1952 as a grocery store.
4.      Duckie's Vintage Boutique
At Duckie's Vintage Boutique, you can shop for your Dapper Day digs while giving back to the community.
The nonprofit store carries clothes from the 1920s to the Y2K era, plus a massive selection of records, movies, and collectibles like comic books and action figures. The store supports Penguin Point Productions, a community theater down the hall. Proceeds from the store go toward Penguin Point's youth theater classes, keeping them affordable for the area's young performers.
5.      Etoile Boutique
Etoile Boutique sits among the unique restaurants and craft breweries of Orlando's trendy Milk District.
The vintage store carries a curated selection of clothing from throughout the 20th century, as well as locally made jewelry, toiletries, and T-shirts. Every visit is different, thanks to the shop's private buyer, who brings in over 100 new pieces each week.
6.       Deja Vu Vintage Clothing & Accessories
Complete your look at Deja Vu, one of Orlando's oldest vintage stores.
Deja Vu opened in 1986 when many of the clothes we now consider vintage hadn't even been sewn yet. The store's shelves are packed with clothing of all eras. Its most impressive feature, however, is its colossal collection of costume jewelry, from midcentury brooches to bold '80s earrings. The store is also the perfect place to find a hat, cufflinks, or tie clips.
Sleep in Style at a Rosen Inn
After your shopping spree, head back to your cozy room at a Rosen Inn to try on your new digs.
Our four Orlando hotels are a short drive from Orlando's best vintage stores. Each hotel has an o
n-site laundry facility and guestrooms with an iron and sizeable armoire so that you can keep your finds in top shape for decades longer.
Even better, Rosen Inn Lake Buena Vista, our Walt Disney World Good Neighbor® Hotel, provides free shuttle service to the Disney theme parks, making getting to Dapper Day a breeze.