When taking a big trip to the City Beautiful, you want the entire family to have fun. Toddlers need special care and attention when you're on vacation.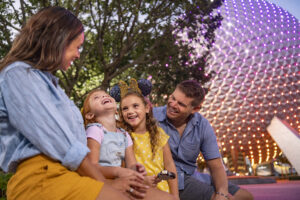 If you're traveling to Orlando with a little one, check out our six tips to make your stay simple and stress free.
1. Rent a Stroller
Traveling on an airplane with a stroller can be a hassle. Luckily, it's always an option to rent one.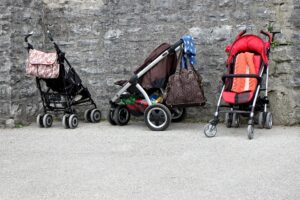 All the theme parks offer strollers for rent at the front of the park. Alternatively, you can use one of the many rental companies situated throughout Orlando. These companies can deliver strollers right to your hotel to make the process as easy as possible.
2. Stock Up on Snacks
If there's one thing toddlers love, it's snacks.
Waiting in long lines in the Florida heat can take a toll on kids. Having snacks ready is a great way to keep the grumpiness at bay. You can purchase child-friendly snacks in your hotel's gift shop and keep them packed in your bag for when they're needed. You can also have food delivered to your hotel through services like Instacart.
No more hangry kids!
3. Find Toddler-Friendly Activities in the Theme Parks
Visiting the theme parks with your little one? Make sure you know what attractions to take them to before you go.
Although many rides have height requirements, there are often rides that have none.
Many slow-moving rides at Walt Disney World are perfect for toddlers, including Peter Pan's Flight at Magic Kingdom and Kilimanjaro Safaris at Animal Kingdom. Universal Orlando has rides like the Caro-Seuss-el that don't have height requirements. Children of all ages can ride if they can sit up unsupported.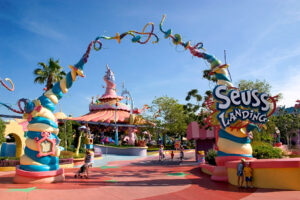 These parks also have play areas that are perfect for kids who have just learned how to run around.
Moreover, SeaWorld Orlando has Sesame Street Land, and LEGOLAND Florida has the Peppa Pig Theme Park. Both experiences are designed for toddlers and preschoolers, with plenty of slow rides and play areas.
If you're looking for a break from rides and playgrounds, these parks also have character meet and greets and shows.
What better way to make your toddler's day than by having them meet friends like Cinderella, the Cat in the Hat, Elmo, and Peppa Pig? And with lively entertainment around all the theme parks, there's sure to be a show that excites everyone.
4. Use Rider Swap
Eventually, the rest of the family will want to go on rides that your toddler isn't tall enough for yet.
When this happens, avoid the FOMO by using rider swap. It's incredibly easy: get in line with the entire family. When it's time to board, have one adult wait with the toddler in the designated waiting area. When the family members who rode get off, they'll take the child so that the adult who didn't ride can get on.
This system is a game changer for families who want to ride bigger rides without worrying about who's going to watch their toddler. It saves everyone time and stress.
5. Visit Other Family Attractions in Central Florida
Outside the theme parks, there are many other attractions and experiences that are suitable for toddlers. At the Florida Mall, children can visit the Crayola Experience. Here, kids can make their own crayons and engage in creative activities.
At the Central Florida Zoo & Botanical Gardens, children can get up close with over 500 animals.
While you're there, stop by the Barnyard Buddies Children's Zoo, where your toddler can meet and feed animals like llamas, goats, and alpacas. It's sure to be a wildly fun time for the whole family.
6. Stay at a Resort Where Kids Eat Free
The most important factor in planning a vacation with your toddler is ensuring they have a comfy place to eat and sleep after a day in Orlando.
Each Rosen Inn has an on-site buffet where children five and younger eat free with a paying adult. Our four convenient and affordable hotels have the best of Orlando right in their backyards.