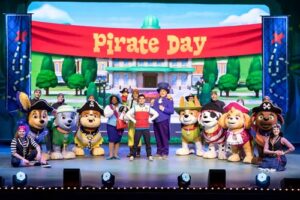 PAW Patrol Live! The Great Pirate Adventure is an interactive stage production based on the hit Nickelodeon animated series. The show sails into Orlando's Addition Financial Arena on Saturday, July 30, and Sunday, July 31, 2022.
What to Expect at The Great Pirate Adventure
PAW Patrol Live! The Great Pirate Adventure is an exciting voyage for the entire family.
Ryder and his team of heroic pups will take the audience to Adventure Bay on the town's Pirate Day. The PAW Patrol must rescue Cap'n Turbot so that Mayor Goodman can pull off the celebration. And they need to stop the dastardly Mayor Humdinger from claiming a hidden treasure for his town, Foggy Bottom.
The pups need your help to solve the case and find the treasure.
This show is full of engaging music, dancing, and puzzles. It's a great way to introduce younger kids to live theater.
Meet the PAW Patrol
Each of PAW Patrol's canine characters is a different breed, with a unique personality and extraordinary skill set.
Chase, the athletic leader of the group, is a German shepherd police officer.
Zuma is an energetic, fun-loving chocolate Labrador who loves the water.
Skye is a smart and fearless cockapoo. She is the flight expert in the group.
Rubble is a gruff but loveable English bulldog. He's a pro with bulldozers and all things construction.
Rocky is a creative and enthusiastic mixed-breed pup who loves to recycle.
Marshall is an excitable but clumsy Dalmatian firefighter.
Tracker is a spunky Chihuahua ranger with incredible hearing.
PAW Patrol Live! Orlando Showtimes
Assemble your crew and save the day during one of these Orlando showtimes:
Saturday, July 30, 2022, 11 a.m.
Saturday, July 30, 2022, 3 p.m.
Sunday, July 31, 2022, 11 a.m.
Sunday, July 31, 2022, 3 p.m.
Tickets start at $20. For an exclusive experience, upgrade to a VIP (Very Important Pup) package. VIPs get premium seating and a photo opportunity with the PAW Patrol after the show. It is a perfect way to end an afternoon of fun and adventure.
Affordable Hotels to the Rescue!
If you're looking for ways to save when traveling to Orlando, book a room at a Rosen Inn through OrlandoHotels4Less.
When you book with us, you receive the best rates at our hotels. We offer budget-friendly comfort in the heart of Orlando, close to Central Florida's top attractions and restaurants.