Attention, families traveling to Orlando with young children. PAW Patrol LIVE! is on a roll, embarking on a 2023 tour. The live show features music, dancing, and appearances by the Nickelodeon show's most popular pups.
PAW Patrol LIVE! will come to Orlando's Addition Financial Arena between August 11 and 13, 2023. Showtimes vary, with morning, matinée, and evening shows available. Here's everything you need to know before the pups take to the stage.
We saw PAW Patrol LIVE! in Orlando last year. Will the 2023 show be any different?
Yes! While last year, the PAW Patrol brought swashbuckling fun to Orlando with the Great Pirate Adventure, this year's show will have a totally new story.
In Heroes Unite, the PAW Patrol bands together to rescue Robo Dog, who has been kidnapped and cloned by the villainous Mayor Humdinger. They need your help tracking down the clones and finding the original Robo Dog.
Will my child's favorite PAW Patrol character be featured?
Most likely. Loads of PAW Patrol members will come to Orlando this August. The following pups hit the Addition Financial Arena stage last year, and are returning for 2023:
Chase is a German shepherd police dog who takes his duties on the PAW Patrol very seriously.
Zuma is a fun-loving chocolate Lab who is a pro at diving and water rescues.
Skye is an acrobatic and brave cockapoo who loves to fly in her helicopter.
Rubble is an English bulldog who loves construction work and digging for clues.
Rocky is an excitable mixed-breed pup who can repair anything with recycled material.
Marshall is a firefighting Dalmatian who is prone to clumsiness but loves to help others.
Tracker is a Chihuahua puppy who uses his perfect hearing to perform jungle rescues.
This year, they'll be joined by two new additions:
Liberty is a street-smart dachshund who knows her way around the bustling Adventure City.
Everest is a playful Siberian husky who's great at navigating through snow and over mountains.
The show also features human creatures Ryder, Jake, Farmer Yumi, Mayor Humdinger, Cap'n Turbot, and Mayor Goodway. Plus, a walrus and chicken for good measure.
How much are tickets? Are there any upgrade options?
General admission to PAW Patrol LIVE! starts at $45. All guests 1 and older will need tickets.
You can also surprise the PAW Patrol fan in your life by upgrading your family to the V.I.P. package (that's "Very Important Pup"). This experience comes with preferred seating for the show. Afterward, V.I.P.s can stick around for a 40-minute meet and greet with many of the characters.
Where is Addition Financial Arena? Is there anything else to do in the area?
Addition Financial arena is located on the University of Central Florida's main campus in East Orlando.
The massive university boasts an on-site arboretum with free admission. Those going on Friday can also enjoy the campus' free art gallery.
And if you get hungry, you'll find a Dunkin', Dominos, and an outpost of local taco chain Gringos Locos. There's more to eat just down the road from UCF — Waterford Lakes is a shopping and dining district with loads of restaurants. There's a Chuck E. Cheese and Marlow's Tavern, which serves kids menu staples like chicken fingers and mac and cheese alongside sophisticated options like a mini tenderloin steak and kiddie version of surf and turf.
East Orlando also has an 84-acre park with a playground: Jay Blanchard Park.
The easiest way to get between International Drive and East Orlando is via I-4, which you'll take to State Route 50 (Colonial Drive).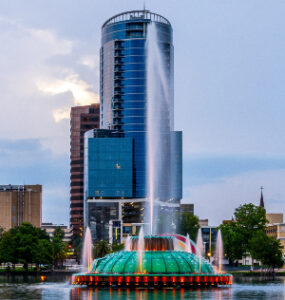 Along the way, the toll road passes through downtown Orlando, which is a great place to take a break from driving. Downtown is home to Lake Eola Park, which has a big playground, and Relax Grill, a laid-back restaurant with $7 kids meals. Or take the kids to the Orange County Regional History Center to learn more about Orlando.
Where Should I Stay for PAW Patrol LIVE?
When traveling to Orlando for pup-tastic fun, book a stay at a Rosen Inn.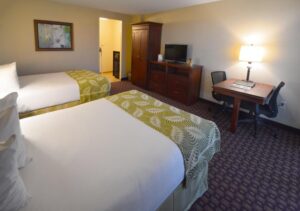 Our four Orlando hotels are right on International Drive, providing easy access to major highways. In your downtime, follow more PAW Patrol adventures in your guestroom, where you'll find an HDTV with Nickelodeon and other cable channels. Or board a low-cost or free shuttle to your favorite Orlando theme park.
As an added perk, kids 5 and under eat free at each Rosen Inn.