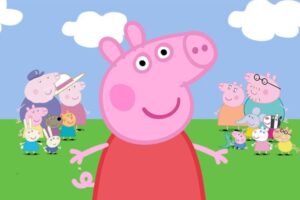 There's a new theme park coming to Orlando, and it's inspired by the children's show Peppa Pig.
On February 24, 2022, the world's first-ever Peppa Pig Theme Park is opening right next to LEGOLAND. The new theme park is being built suited for children between the ages of 2 through 12 with rides, attractions, and more. The park will also be more accessible for people with autism since it will be registered as a Certified Autism Center.
What is Peppa Pig?
First things first, Peppa Pig is a British cartoon show for children.
The star of the show Peppa is a four-year-old charming pig who lives with her brother George, Mummy Pig, and Daddy Pig. In the show, Peppa spends her time playing with friends and going on adventures.
Peppa Pig Theme Park
Fans everywhere will get a chance to walk into the world of Peppa Pig and experience Peppa's adventures.
The theme park was created for the little ones or who fans call "little piggies." The little piggies can ride rides, play in areas called "muddy puddles," visit the indoor cinema, find their way through a maze, take part in tea parties, walk along the nature trail, and watch live shows. The cherry on top is Peppa Pig and her friends walk around the park so they can meet the children.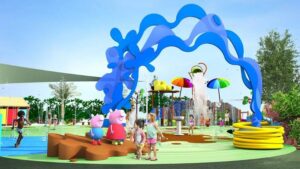 Peppa Pig Theme Park Attractions
Peppa Pig's Treehouse – Kids will enjoy climbing into a treehouse and having tea parties with Peppa. Once they are done, they can slide down and play in Granny Pig's Garden.
Pirate Island Sand Play – This attraction is exactly as it sounds. Hunt for buried treasure or build sandcastles from the sands of Pirate Island with Danny Dog.
Rebecca Rabbit's Playground – Little ones can explore rabbit burrows and find carrots all over Rebecca Rabbit's Playground.
Peppa Pig Theme Park Rides
Daddy Pig's Roller Coaster – The family will enjoy this roller coaster ride. Daddy Pig takes you on a ride in his new car, but there's a detour.
Grampy Rabbit's Dinosaur Adventure – This ride takes you on an exotic dino adventure through breathtaking mountains and active volcanoes.
Grandad Dog's Pirate Boat Ride – Board the pirate ship and sail to Pirate Island with Grandad Dog. Then go on an adventure hunting down buried treasure along the shore.
Peppa Pig's Balloon Ride – This aerial carousel takes riders to the sky in Miss Rabbit's hot air balloon as they overlook the beautiful view of Peppa Pig Theme Park.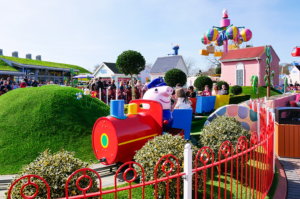 How to Book Tickets to Peppa Pig Theme Park
Families can visit the Peppa Pig theme park website to buy tickets.
There are a couple of ticket types. A one-day ticket costs $31, two-day tickets cost $135, and a three-day ticket starts at $160. Annual passes are available. Purchase your tickets online or the day of your visit.
Make Your Trip Special with a Stay in Orlando
The best place to stay when visiting the Peppa Pig Theme Park in Orlando is at a Rosen hotel.
Book a room through Orlando Hotels 4 Less to get the lowest possible rates at a variety of Rosen hotels. With affordable rooms close to the Disney parks, Rosen Hotels & Resorts offers great choices fitting a range of budgets all offering convenience and comfort. Our hotels are also dedicated to the highest standards of cleanliness and safety for the well-being of our guests and associates.