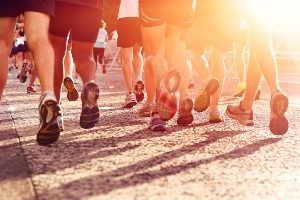 The Disney Princess Half Marathon Weekend is one of the most popular runDisney events – and it's easy to see why. Each race course takes you on a magical route through Walt Disney World in Orlando and includes special meet and greet opportunities with your favorite Disney princesses and princes. You'll also earn a commemorative medal inspired by a Disney princess for each race you complete. Perhaps best of all, you are encouraged to dress up in your most sparkly, fairy-tale attire.
Preparing for Race Day
Like all other runDisney events, the Disney Princess Half Marathon Weekend features several events in addition to the half marathon. You can participate in as many as you like. If you choose to complete all three races, you will receive an extra medal for having completed the Disney Fairy Tale Challenge. Even kids can join in the fun and are encouraged to wear costumes as well.
If you are running in multiple events, you'll want an outfit for each race.
2020 Disney Princess Half Marathon Weekend Schedule
February 21: Disney Princess 5k
February 22: Disney Princess Enchanted 10k
February 22: runDisney Kids Dashes
February 22: runDisney Kids One Mile Run
February 23: Disney Princess Half Marathon
When planning your costume, consider the estimated time you expect to be on the course as well as your personal goals for each race. That Rapunzel wig or Prince Phillip shield might be fun for a 5k but could become tiresome during a half marathon. If you are trying to set a personal record, you might want to skip extra accessories that could slow you down.
It's also a good idea to take your costume out for a test run before race day. It's a good way to find out if there are any issues with your costume and adjust accordingly.
Choosing Your Costume
If you aren't sure where to begin when choosing a costume for race day, don't worry. As long as you follow the guidelines listed on the runDisney website, the sky's the limit. Here's a few ideas to get you started:
A shimmering tiara or themed mouse ears may be all you need for some race weekend magic. You can also coordinate your running gear to match the colors of your favorite character's outfit. This option is ideal for those who aren't used to running in costume. It's also inexpensive and won't take up much room in your luggage.
Another approach is to create your own costume. Many creative runners make or customize their entire outfit, including shoes, shirts, tutus, and even accessories like fairy wands. Not only is this a great way to exercise your creativity, you'll also ensure your costume is entirely unique.
Official runDisney Performance Gear
If DIY isn't your forte but you still want to dress up in more than just a simple tiara, we suggest trying some official runDisney performance gear. The unique designs are inspired by Disney characters and are available at the runDisney Health & Fitness Expo on race weekend. The expo is also where you'll pick up your race bib, shirt, and gEAR bag, so it's worth checking out their selection.
A Hotel Close to Disney World
As race day approaches, you'll want to book an Orlando hotel near Disney for your stay. Clarion Inn Lake Buena Vista is family-friendly option located less than 2 miles from Disney Springs. We also offer fun amenities, including swimming pools and a splash zone for kids. To book your stay, give us a call at 407-996-4236 or click on the red button at the top of the page.