Even though hotel rooms are not typically equipped with full kitchens, the affordably luxurious rooms at the Rosen Inn are equipped with microwaves and refrigerators that make it possible to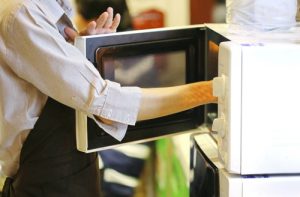 prepare and store meals that you can eat instead of going out, or that you can take to the theme parks for a healthier and more cost-effective solution than buying food on-site.
Main Dishes
You can make full entrees to eat with just a microwave. Make sure to purchase some high quality, resealing plastic bags to use, as lower quality bags can cling to food or even melt in a microwave. Some of the foods you can make using plastic bags, a microwave, and a refrigerator include:
Burritos, by spreading refried beans, cheese, and salsa on tortillas, rolling them up and warming them
Pizzas, by adding toppings like sauce, cheese, and pepperoni to pita bread rounds and heating until the cheese is melted
Entrée salads, by using bagged greens from the supermarket and adding proteins like hard-boiled eggs or drained tuna. This makes a perfect snack or a great healthy dinner after a long day in the city
Side Dishes
Those same plastic bags you used for your main dishes can be used for cooking tasty sides as well. Cutting up fresh vegetables with a few tablespoons of water in a plastic bag lets you steam them in the microwave, and they retain more nutrition than if you'd boiled them, too! Cubed potatoes with oil and microwaved until their tender is a great option as well. For cold sides, you can try making a quick bean salad with canned beans, chopped onion, and Italian salad dressing. When you're done, it can all be stored in your room's refrigerator until you're ready to eat!
At the end of the day, you want to make sure you have a safe and comfortable place to stay so you can be ready and energized for your next adventure. For convenience, you'll want a place located close to all of the attractions, but one that doesn't break your bank. Located less than ten minutes from all the parks in Orlando, and packed with amenities that allow you to cook on vacation, the Rosen Inn is the perfect place to call your home away from home. To book your stay today, call us at 1-877-224-5377.