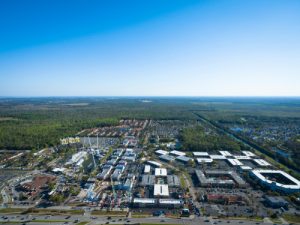 A vision of a classic Florida town brought to life, Old Town features architecture of days passed, along with distinctive storefronts full of restaurants, bars, and family friendly attractions. Old Town lets you step back in time to when things were simpler, the pace of life was more reasonable, and the memories were just as magical. In addition to the many permanent storefronts and attractions, Old Town is also host to a wide variety of live and special events throughout the year. Here are some upcoming summer events you should be sure to see if you're in Orlando!
Family Movie Night
Round up the whole family for a night of movie-watching on the big screen. Old Town plays family-friendly movies and timeless classics every Sunday night. Pull up a chair, get some snacks from your favorite Old Town shop, and enjoy a movie under the stars. Movies begin at dusk. For a full schedule of movie showings, click here.
Wednesday Night Car Show
Join us in welcoming the return of Old Town's famous Wednesday Night Car Show this summer! The show features a rotating schedule of different car types, makes, or models every Wednesday evening. If you're a local and own the specified type of vehicle, bring it along and be a part of the show! Participation is free, there is always live music, and you're sure to see something out of the ordinary. For a list of the different types of cars for each show, click here.
Old Town Throwdown
If you're a truck or country music fan, the Old Town Throwdown is for you. Come check out show-quality, modified trucks on display as they compete for cash and prizes. After that, head over to the stage for live country music starting at 4:00pm with favorite songs from the past and present. This event is the third Sunday of each month, and is free for all ages!
Import Car Show
The last Sunday of each month is when you can find Old Town's Import Car Show. Held from 4:00pm to 9:00pm, come see a selection of Orlando's best Japanese and Korean show cars. JDM (Japanese Domestic Market) cars are what sparked that obsession with the automotive culture for so many people, and the show at Old Town is a great way to see the passion and effort the owners put into their rides.
In addition to these special events, live music is a staple of the Old Town experience, with artists performing nearly every day. If you're visiting Orlando on vacation, this is a great way to experience the city how it was back in the day. When planning your vacation, be sure to book your stay with Orlando Hotels 4 Less to get the lowest possible rates. Call us today at 1-866-33-ROSEN (1-866-337-6736) to book!