From concerts to church services, the pandemic has resulted in the postponement of countless social, athletic, and corporate gatherings — including the Insurance Office of America (IOA) Corporate 5K. Fortunately, with insight from local and government health officials, Track Shack and IOA were able to reschedule the event rather than cancel it. Although it's now set to take place virtually from November 12 through November 15, the IOA Corporate 5K is still on track to fulfill its mission and support local charities. Join your coworkers, corporate team, and over 18,000 other participants at for this fit, fun, and meaningful run.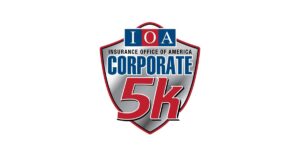 How to Virtually Participate in the IOA Corporate 5K
The IOA Corporate 5K was designed specifically for businesses and nonprofits in Central Florida. As a result of the race going virtual for 2020, teams can easily include coworkers that aren't based in or around Orlando by using Real-Time Remote Racing™ technology on the RTRT app. Register for the race as part of a company team with your colleagues and invite other members of your organization to participate. If you can't find a coworker or associate to join, you can still register as part of the Track Shack Fitness Club team and run from wherever you are.
Camaraderie and Competition
Every year, the IOA Corporate 5K brings together thousands of working professionals, nonprofit associates, and CEOs to walk, run, and compete for prizes. Enter exclusive competitions as a team or nominate your coworkers to win solo awards. Awards up for grabs during the 2020 IOA Corporate 5K include:
• Workplace Wellness Award
• Best T-Shirt Design Award
• Top Fundraiser Spoon
Running (or Walking) Remotely for a Cause
When you sign up for the IOA Corporate 5K Virtual, you'll receive a complimentary eight-week training program that includes a walking and running plan. In addition, you'll receive some exclusive 5K swag, such as:
• A custom t-shirt
• An IOA Corporate 5K bib
• A personalized finisher certificate
• A reusable facemask
Beyond scoring branded 5K gear, your entry into the virtual walk/run will benefit nonprofits that promote health and wellness in Central Florida. Therefore, just by participating in the IOA Corporate 5K, you'll help support the following organizations:
1. Track Shack Youth Foundation
2. Second Harvest Food Bank
3. Christian Service Center
Stay Minutes (and Miles) From Lake Eola
If you're planning to virtually participate from Central Florida, you'll find all the space you need at the lowest possible prices when you book your race-day stay with Orlando Hotels 4 Less. Along with an unbeatable rate, our hotels come with unbeatable health and safety practices, such as frequent cleaning of common areas and guestrooms with hospital-grade disinfectant, floor markers to help maintain proper social distance, and adding multiple hand sanitizer stations throughout each of our hotels. Our upgraded cleaning protocols allow us to ensure that your private room is prepared with the utmost care. Call us at 1-866-337-6736 to reserve your room today.