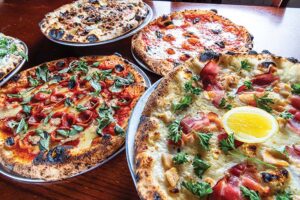 There's nothing like celebrating National Pizza Day with none other than the best pizza in Orlando.
Whether New York-style gets your hail of praise, or you cross-you-heart-and-hope-to-die by deep-dish, even if you swear by alfredo sauce, or love the simplicity of a cheese pizza, there is a pizza spot in Orlando for you. Here's our list of where to find the perfect pizza in Orlando to satisfy your personal craving.
Lazy Moon Pizza
Lazy Moon pizzas are for pizza lovers with a massive appetite—literally.
The pizza joint is famous for its monstrous 30-inch pizza slice. Want to serve a small army? Order one of their pies. Despite its name, they didn't go lazy on taste. These big pies have an incredibly big taste. Every pizza is created with aged dough, homemade sauce, and fresh toppings. Lazy Moon happily serves guests only perfect pizza.
Try a slice at the two Lazy Moon locations: on University Boulevard by UCF or by East Colonial Drive and the Mills 50 District.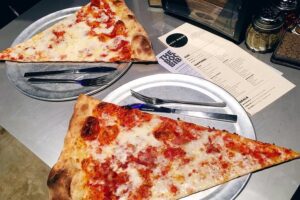 Blaze Pizza
Blaze Pizza is like the Subway or Chipotle of pizza. You create your own pie suitable for your taste and it's cooked within 180 seconds.
Blaze believes in real ingredients. Their dough is fresh and made in-house every day. They cure their meats, use healthy veggies, and create their own salad dressings. Even their packages are eco-friendly. The company is dedicated to using serving material that is recyclable, compostable, and made from post-consumer repurposed materials.
Get creative with your toppings and then devour your masterpiece at their Disney Springs location.
1000 Degrees Pizza Salad Wings
Winter Garden's worst kept secret for best Neapolitan pizza is 1000 Degrees.
The pizza joint offers the best brick oven pizza, fire-roasted wings, and customizable salads. They credit their reputation to making the freshest handmade dough, using the highest quality whole milk cheese from Wisconsin, and cooking your perfect pizza in 120 seconds.
Check out 1000 Degrees at their location on W. Colonial Drive in Winter Garden.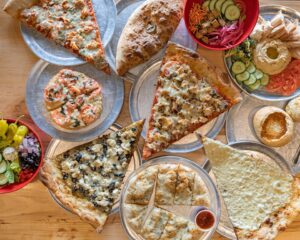 Brick & Fire
What makes Brick & Fire unique is it's not a chain, and they splurge on ingredients.
They make their dough by hand every day with Extra Virgin Olive Oil and live yeast beer from the Orlando Brewing company. The restaurant also uses fresh ingredients and expensive, luxurious cheeses. Baking the pie in a brick oven ensures the crust is crisp on the outside yet moist and chewy on the inside.
Brick & Fire is located at 1621 S. Orange Ave. in Orlando.
Rosen's Perfect Pizza
If you are craving pizza on the healthier side, the perfect pie would be Rosen's Perfect Pizza available at any Rosen hotel Lite Bite or deli.
The pizza is made with a honey whole wheat crust, has zero grams of trans fat, and it's low-fat and low sodium. What makes this pizza even better is all profits are donated to the Rosen Scholarship Foundation. Not only do you get to enjoy a healthy slice of pizza, but you are helping a great cause.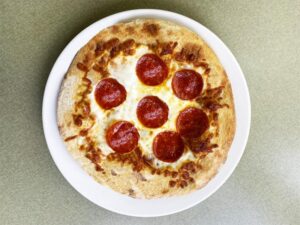 Tuck in at Rosen Hotels & Resorts When the Itis Kicks in
The best place to sleep off an Orlando pizza coma is at Rosen Hotels & Resorts.
When planning your visit to Orlando book a room through Orlando Hotels 4 Less to get the lowest possible rates at a variety of Rosen hotels. With affordable rooms close to International Drive, Rosen Hotels & Resorts offers great choices fitting a range of budgets all offering convenience and comfort. Our hotels are also dedicated to the highest standards of cleanliness and safety for the well-being of our guests and associates.
Orlando seriously has some great eats besides pizza. Read why Orlando scored 2nd place as a U.S. Foodie Destination.