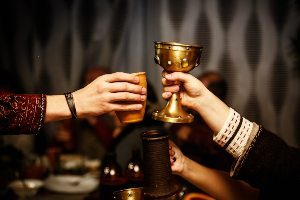 Ever wish your vacation could incorporate time travel? The Orlando Renaissance Festival makes it possible to travel back in time to the Renaissance, if only for a weekend. You and your family can witness history in action through clever recreations and performances. Although this festival is only a few years old, you'll soon see why it has become a popular tradition with locals and visitors.
What to Expect at the Renaissance Festival
The theme for this year's event is Grimms' Fairytales. Entertainment includes a battle chess show by LANCE Orlando, featuring the heroes and villains of these famed fables. There will also be three stages where other shows and performances will take place, contests for skills such as axe-throw and archery, a food court and bar, and a marketplace where merchants will sell their wares. This is one of the best places to find unique souvenirs, so come prepared with extra cash in case something catches your eye.
Costumes are welcome at the event. Please review the guidelines on the festival website to ensure your costume is in compliance with their rules. Also, keep in mind the Orlando Renaissance Festival takes place rain or shine. Before you head out, check the Orlando weather reports and make any adjustments to your costume so you can comfortably enjoy the festival.
The festival takes place from 10 a.m. – 5:30 p.m. on Saturday and Sunday. On Friday, December 6 the festival is hosting Pass to the Past, an event for students K – 12. This is a great way for kids of all ages to immerse themselves in history. Learn more about Pass to the Past on the official festival website.
Local Orlando Talent
Although the event brings centuries of history to life, the Orlando Renaissance Festival is a mere 6 years old. Created by Orlando local Kira Phillips in 2013, the first festival took place in 2016. The festival continues to grow each year, attracting more attendees and vendors, while still maintaining its goal of supporting the local community. One way the Orlando Renaissance Festival does this is through the Make Space Initiative. Each year, Make Space awards one one up-and-coming Central Florida craftsperson the opportunity to showcase their work at the festival.
Another way the Orlando Renaissance Festival supports the local community is by hosting the festival at Bill Frederick Park at Turkey Lake, a popular park near Orlando's residential neighborhoods. If you are visiting from out of town, you'll also find this location easily accessible. It's a 15 minute drive from the International Drive area. It's a great place to discover a new side of Orlando, away from the hubbub of the theme parks and shopping malls.
21st Century Comfort at Rosen Hotels & Resorts
Whether you are attending the festival as a guest or as a vendor, consider choosing a Rosen property for your stay. Our hotels are location in the International Drive and Lake Buena Vista areas, so you'll be a short 15 minute drive from Bill Frederick Park. You'll also be close to all of Orlando's traditional tourist attractions, including theme parks and restaurants. To book your stay, give us a call at 1-866-337-6736 or click the yellow button at the top of the page.