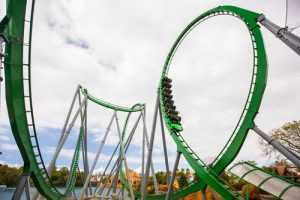 Are you a thrill seeker who loves the adrenaline rush of a good roller coaster? If so, Orlando is the place for you! Our theme parks are full of some of the best and newest coasters anywhere in the country, and are sure to leave you wanting more. Here's a list of our favorites:
SeaWorld's Mako
A relative newcomer to the Orlando roller coaster family, SeaWorld's Mako is both Orlando's tallest and fastest roller coaster. It features a 200-foot drop and speeds up to 73 miles per hour, living up to it being named after one of the fastest sharks in the ocean.
The Incredible Hulk
A favorite of locals and visitors alike for years, The Incredible Hulk at Islands of Adventure shoots riders out of a tunnel at 40 miles per hour and reaches a peak of 67 miles per hour. The ride was recently updated with additional twists and turns for an even more intense experience.
Hollywood Rip Ride Rockit
Next door to Islands of Adventure at Universal Studios, the Hollywood Rip Ride Rockit is an experience unlike any other coaster. The ride reaches speeds up to 65 miles per hour, and features a 90-degree climb to the top of a 167-foot drop. If that isn't enough, you get to choose from one of 30 different songs to play during your trip through the Florida sky.
SeaWorld's Kraken Unleashed
The 65 mile per hour top speed and 145-foot drop put Kraken Unleashed right up there with the best coasters in Orlando, but what truly sets it apart from the rest is that you won't know what's coming next while you're riding. That's because all seats on the ride utilize virtual reality headgear that teleport riders from Orlando to the deep blue sea!
Rock 'n' Roller Coaster Starring Aerosmith
If you're a fan of rock 'n' roll and high speeds, the Rock 'n' Roller Coaster at Disney's Hollywood Studios should be on your list of things to do. The coaster, modeled after a stretch Cadillac limousine, takes you from zero to almost 60 miles per hour in just a couple of seconds as you weave in and out of traffic to the beat of Aerosmith's greatest hits.
When planning your vacation, be sure to book your stay with Orlando Hotels 4 Less to get the lowest possible rates. Call us today at 1-866-33-ROSEN (1-866-337-6736) to book!