A popular saying goes, "Travel is the only thing you can buy that makes you richer."  
And it's true. Travel can truly be transformative, positively impacting your life long after your vacation ends. Whether you're planning your first trip to Orlando or come every year, your upcoming visit is sure to change you for the better.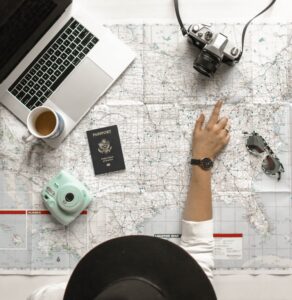 Here are five ways that traveling to Orlando can help you grow and see things in a new way.  
1. Travel teaches you about new cultures. 
Cultural differences come in many forms. They can be as small as what people in various regions call a soft drink. Or they can be big differences, like table manners or the most polite way to greet people. While you can learn about these differences from a book or video, traveling somewhere and witnessing its culture firsthand will result in a deeper understanding.  
And by reflecting on the differences you observe, you'll also gain a stronger understanding of customs in your own culture — ones you may have accepted at face value before.  
These benefits aren't limited to overseas travel, especially in a place like Orlando. It attracts visitors from all over and is the 15th most culturally diverse city in the country. Whether you're coming from out of state or out of the country, consider doing the following on your next Orlando trip:  
Get to know Central Florida with a visit to the

Orange County Regional History Center

or through an event hosted by

FusionFest

. 

 

Strike up a conversation with international travelers at a bar or while in line for a ride. 

Visit the World Showcase in EPCOT and ask the

Cultural Representatives

about their home countries. 

Go people-watching in the theme parks or at a local hotspot like Lake Eola Park.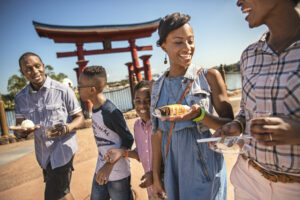 2.
Travel helps you recognize your priorities.
While life is full of decisions, you may make more choices during a weeklong vacation than you normally do in a whole month. What to do each day. Where to eat. Whether to splurge on that Hogwarts robe or Disney Dooney & Bourke bag.   
As you budget your money and time, you'll get a sense of your priorities. Are things or experiences more valuable to you? Which do you prefer: non-stop fun or time for rest and reflection? Do you like to plan every detail of trips or leave room for spontaneity? 
If you're not sure, chances are you'll find out while traveling.  
3. Travel makes you more independent.
For those that grew up visiting Orlando's theme parks, their first trip as an adult can be a bit shocking.  
During past vacations, your only job might have been to have fun. And fun should still be your primary goal. But you'll now need to book your own flights, find your own way around town, set your own budget, and speak up for yourself if you're served the wrong dish in a restaurant.  
In doing so, you'll become more confident in making decisions and putting plans into action, all by yourself.  
But even seasoned travelers can gain independence while on a trip.  
Of course, solo travelers must make all their own decisions. But if you're traveling with a group, consider parting ways for a day. A solo adventure is a great way to enjoy something that doesn't interest your travel mates. And you'll get a crash course in creating your own fun.   
4. Travel shows you how to deal with the unexpected.
Losing your way in a new city. Leaving your wallet on a ride. Getting caught in a 3 p.m. downpour without your poncho.  
Unwelcome surprises can strike even the best-planned vacations. 
When things go wrong, take the situation as an opportunity to grow. Solving the problem will teach you how to improvise and when to ask for help. And you'll learn not to let minor inconveniences put a damper on your day.  
5. Travel is a great opportunity to learn new skills. 
Taking time off work or school affords travelers a fantastic feeling of freedom. Freedom from your email. Freedom to set your own schedule. And freedom to learn new things.  
Vacation is a great time to learn a new skill or three, either ones you can't learn at home or simply don't have time to try.  
A fun-filled city like Orlando offers many chances to pick up a new hobby, such as: 
Cooking. Florida's favorite grocery store, Publix, offers

cooking classes

at select stores. 

 

Surfing. Nearby Cocoa Beach has many surf schools and is one of the

best beaches

on the East Coast for beginners.

 

Languages. Travelers who speak English as a second or third language can practice the language in Orlando. And anyone can ask the cast members in EPCOT's World Pavilion how to say key phrases in their languages, like "cheers" or "thank you." 

 

Latin dance. Try your hand at salsa, bachata, or merengue at Cuba Libre or Mango's. Both dance clubs are on International Drive. 

 

Photography. Sometimes, a new setting or

perfect view

is all you need to get inspired. You may want to bring an extra battery pack for your phone. Photographers bringing a DSLR camera should pack minimal gear — nobody wants to lug heavy equipment around in the Florida heat.

Yoga. Try yoga at a local brewery like Ivanhoe Park or Rockpit. Outdoorsy types can attend yoga amid the lush greenery in

Mead Garden

. Wildflower Farm has goat yoga, perfect for

animal lovers.

  

Mixology. The Courtesy, an upscale cocktail bar, offers

classes

every Saturday afternoon.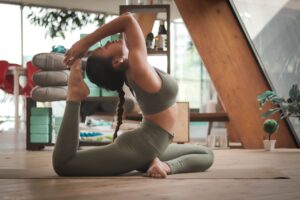 See things a new way at a Rosen Inn. 
At the end of each day, reflect on your experiences from the comfort of your cozy guestroom at a Rosen Inn.  
Our four Orlando hotels are in the heart of Orlando and offer affordable accommodations, on-site dining, and free theme park shuttles. These convenient amenities save you time and money, allowing you to focus on learning about yourself and the world — and having a blast while you do it.