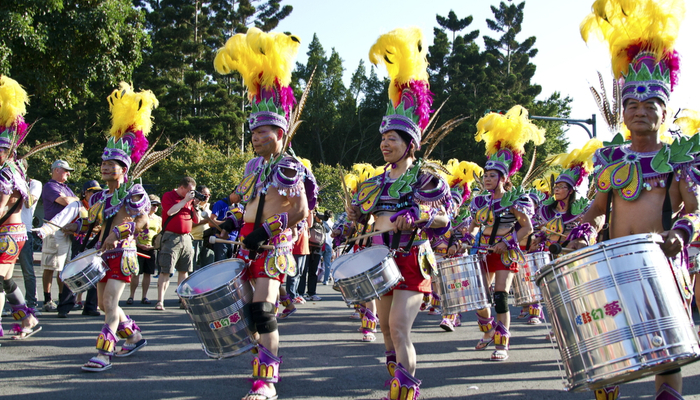 Each year Universal Studios hosts an elaborate Mardi Gras event, inspired by the traditional festivities that take place in New Orleans. This family-friendly version of Mardi Gras is the perfect way for anyone visiting Orlando to enjoy an authentic celebration of the holiday and the culture that created it. A trip to Mardi Gras at Universal Orlando Resort is truly a treat for the senses and entrance to Mardi Gras is included with park admission so there's no need to pay extra to participate. Best of all, Mardi Gras Universal is designed to be family-friendly, so everyone can enjoy the party.
Events
Each year Universal Studios holds Mardi Gras celebrations from February  to April  during which attendees are treated to parades every night. These parades include more than just a few simple floats. Spectators will also get to see street performers, beads flying in every direction, and people dressed in all sorts of gorgeous costumes.
Music lovers will also have a great time at Universal Studios Mardi Gras. Every night during the celebration, you'll get to watch a mix of two great types of music:
Big names live in concert
Authentic New Orleans music
If you really want the authentic experience, you can pick up some of the delicious Cajun food they have for sale. This entire experience is included with theme park admission or Universal Studios annual passes, so you don't even have to worry about paying an additional admission fee.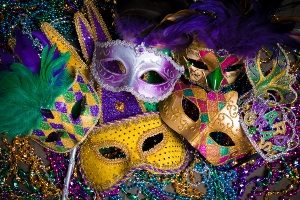 Flavorful Cajun Food
Universal whisks you away to the streets of New Orleans with a transformation that dazzles all the senses. The New York area in Universal Studios becomes New Orleans, with a French Quarter Courtyard. In the courtyard, you can find some of the best food in the bayou including gator bites, jambalaya, beignets, and more. While you eat, your ears will be treated to music by Louisiana jazz, blues, and zydeco bands.
In additional to flavorful food, Universal Mardi Gras also features a variety of drinks, including signature cocktails as colorful as the flying beads. There is also craft beer, a mimosa bar, and mocktail options for those avoiding alcohol.
A-list Concerts
In addition to the live Louisiana-style music at the French Quarter Courtyard, Universal Mardi Gras also hosts concerts. Held at the Music Plaza stage, these concerts feature some of the biggest names in pop, rock, country, R&B, and more, so fans of any genre are sure to enjoy the shows. In 2019, performers included Dan + Shay, Macklemore, Pitbull, Steve Miller Band, and Prince Royce. For the most current information regarding the 2020 lineup, please check the Universal Orlando Resort website.
Family-Friendly Mardi Gras Parade
The lively parade is the highlight of Mardi Gras at Universal Orlando Resort. The whirlwind of music, performers, and extravagant floats will have you grooving all night long. Even if you've attended Mardi Gras before, you'll still enjoy a new experience each year as each year Universal adds a few new floats. All of the parade floats are made by Kern Studios, the same studio that has been making floats for New Orleans since 1947.
In order to find the best viewing spot, you'll want to stake your claim early. If you'd like to be part of the party, Universal Orlando Resort also offers a unique opportunity to ride in the parade floats. While pass holders do get priority, there is still hope. You can try the standby line (near Barney's Backyard play area) for a chance to be selected. Note that all riders under 18 must be accompanied by an adult and at least 48" tall.
Where to Stay
When you're taking a trip somewhere, it's absolutely crucial that you find a good place to stay. Not only does the quality of your hotel determine how comfortable you'll be during your trip, your location plays a big role in what you're able to do. If you choose a hotel in a nice central location, you'll have easy access to everything you might want to do.
If you're not sure where to start when it comes to finding good deals on great hotels, there are websites like Orlando Hotels4Less which put together a list of available hotel rooms and help you find great deals. If getting a great hotel for a great price is important to you, you need to use Orlando Hotels4Less to book your hotel for Universal Studios Mardi Gras. Call us today at 1-866-337-6736 to reserve your room.