Fire up the iron and break out the syrup — International Waffle Day is coming up on March 25.
As you probably guessed, people all over the world celebrate the day by eating waffles. While many food-related holidays are modern inventions, thought up by food bloggers and marketing teams, this day's roots are much deeper.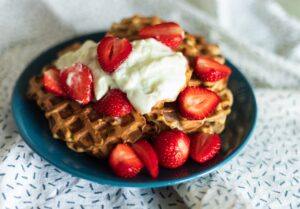 To explain, here's a little history.
The grid-shaped goodies originated in Belgium and the Netherlands in the 1300s. By the 1600s, they'd made their way to Scandinavia, where they were a huge hit. Swedes realized that the name of a holiday they celebrated on March 25 sounded a lot like "waffle day" in their language. So they started marking the occasion with a waffle feast.
In the meantime, word about waffles spread around the world. And because people everywhere loved them, more cultures started observing March 25.
If you're spending 3/25 in Orlando, you'll find many ways to celebrate. Whether you like yours sweet or savory, plain or loaded with toppings, there's a restaurant for you. Here are six spots in the City Beautiful with must-try waffles.
1.      Hash House a Go Go
Waffles came to the U.S. via the Pilgrims. Before sailing to Massachusetts, the Mayflower had stopped in the Netherlands, and they discovered the dish there.
A few decades later, German settlers arrived in Pennsylvania and laid the groundwork for a uniquely American tradition: chicken and waffles. The Pennsylvania Dutch topped theirs with stewed chicken. Outside of Central PA, people started using fried chicken instead. And the rest is history.
If you're looking for chicken and waffles on International Drive, head to Hash House a Go Go.
The restaurant serves theirs with a variety of sweet and savory toppings, like bacon, cinnamon, and blueberry-lemon glaze. Their signature dish, however, is a massive platter of sage and cornflake-crusted chicken and waffles. Andy's World Famous Sage Fried Chicken is topped with smoked bacon, tomatoes, and fresh rosemary sprigs.
This savory dish pairs perfectly with bar options like the bacon bloody mary and clamato cocktail.
2.      DaJen Eats Café & Creamery
Thanks to DaJen Eats, even vegans can delight in chicken and waffles in Orlando.
DaJen Eats Café & Creamery is located in the northern suburb of Eatonville. Many of the plant-based restaurant's dishes pay homage to chef Jenn Ross' Jamaican roots. All week, you can enjoy jerk chick'n sandwiches, vegan oxtail platters, and rice bowls. But if you have a hankering for chicken and waffles, you should head there on Saturday.
During Saturday brunch, DaJen serves up huge helpings of the dish, drizzled in a savory remoulade and sweet syrup — no animal products involved.
The dish pairs perfectly with DaJen's fresh juices in flavors like mango and hibiscus.
3.      @ The Diner
Despite the name, Belgian waffles were invented in the U.S., albeit by a Brussels native.
Maurice Vermersch invented a thick variety similar to what he'd eaten back home but used baking powder instead of egg whites. This swap made it easier to make them in bulk. While Belgians tend to eat theirs with a light dusting of powdered sugar, his wife Rose suggested that Americans would prefer whipped cream and strawberries.
She was right. When the Vermersch family sold their creation at the 1964 World's Fair, American attendees went wild for them.
Has this bit of trivia left you with a craving for Belgian waffles? If so, @ the Diner is the place for you. Go traditional with berries and cream. Or indulge in chocolatey goodness with a Nutella or Boston cream variety.
If you're feeling adventurous, @ the Diner also serves eggs Benedict, chicken sliders, and breakfast tacos made with waffles.
Most of these dishes can be made gluten-free.
4.      The Waffle Bros
In Belgium, locals tend to eat two types of waffles. One is the thick-pocketed Brussels variety that inspired the Vermersches. The other is the Liege style, which originated in a city close to the French border. They are breadier and are made with caramelized pearl sugar, which adds a distinctive flavor and crunch.
It is this variety that Aaron and David Mylott serve from their Waffle Bros food truck.
Their everyday menu includes lots of sweet varieties, like Nutella, Fruity Pebbles, and mint. The Mylott brothers also constantly come up with limited-edition varieties. These offbeat options have included toppings like bananas and marshmallow fluff, gummy worms, and even Flamin' Hot Cheetos.
To see where the truck is headed next, check their Instagram page.
5.      Bambu
Waffles made their way to Southeast Asia via French colonists. In Vietnam, locals made the dish their own by adding coconut milk and pandan, an aromatic, palmlike plant. Pandan gives Vietnamese waffles a distinctive green color and a mild, floral flavor.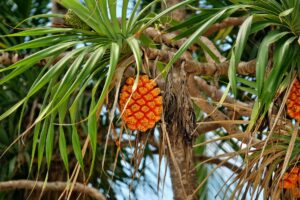 Given Orlando's sizeable Vietnamese community, it's no surprise that you can dine on delicious pandan waffles in the City Beautiful.
To try them, head to Bambu on Colonial Drive. The tea chain specializes in flavorful, healthy drinks. Pair your pandan treat with Vietnamese coffee, fruit-infused coconut water, or boba tea.
6.      Boardwalk Buffet Restaurant
Waffle irons have come in unique shapes and patterns since the start. The first ones made in Europe were typically stamped with coats of arms or images of the local scenery. Today, you can get ones that depict everything from Star Wars characters to emojis.
If you're spending March 25 in Orlando, what better way to celebrate than with a waffle in the shape of our most famous resident?
Boardwalk Buffet Restaurant at Rosen Inn Lake Buena Vista serves warm, fluffy Mickey Mouse waffles every morning. At this all-you-can-eat buffet, you can enjoy them with sides like scrambled eggs and fresh fruit. Even better, our Orlando hotel's Kids Eat Free Program lets one child, 5 or younger, eat for free with a paying adult.
When you book your room at Rosen Inn Lake Buena Vista, or any of our Orlando hotels, through Orlando Hotels 4 Less, you'll enjoy the best rates on your stay.