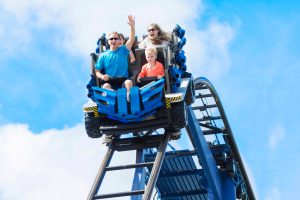 With year-round excitement and on-site entertainment, there's no wrong time to visit Central Florida theme parks. However, if you're looking to buy tickets when the prices, lines, and forecast are just right, you might want to block your schedule out at the beginning of the year. Here are five perks that make January the best month to book your stay around Orlando's most exhilarating attractions.
Frugal Flights  
For those who want to cut down on spending while also taking the whole family on an unforgettable vacation, January has the most miles to take advantage of. Once the holiday season slows down, airfare drops to surprisingly low rates. In fact, January flights to Orlando, on average, cost 11% less than average ticket prices for the rest of the year.
Off-Season Schedule
By mid-month, schools are back in session for the start of the off-season—which cuts out a huge chunk of theme park traffic. Instead of standing in line for hours or walking in circles looking for a place to rest your feet, you can take your trip at your own pace. Enjoy shorter wait times, quicker access to park cuisine, and more room to roam.
Exclusive Events
January in Orlando might have less foot traffic, but that doesn't mean theme park events are slowing down. Here are some of the top events that kick off the New Year in Central Florida.
SeaWorld Three Kings Celebration – Immerse yourself in Latin culture and cuisine from January 1­­–6.
Epcot® International Festival of the Arts – Celebrate all forms of art at this tasteful event open January 17 to February 24.
Rock the Universe™: Florida's Biggest Christian Music Festival – Bring faith and your favorite music together on January 24 and 25.
Wonderful Weather
Florida heat can be a little hard to handle, which makes January the perfect month to spend your day outside at a Central Florida theme park. Enjoy cool, comfortable temperatures and endless hours of Florida sunshine without the interruption of summer showers. Remember to bring a jacket and some comfortable, cozy walk wear.
Affordable Accommodations
If you're taking advantage of the best time to visit Orlando theme parks, take advantage of the best way to book your stay. With Orlando Hotels 4 Less, you can score one the most comfortable stays in the city at the lowest possible rate. To reserve your room, call us at 1-866-337-6736 or click the yellow button at the top of the page.